Providing Commercial Roofing with Integrity since 1979
At North American Roofing, we believe in the radical ideal that your roof needs a foundation, too: a relationship made to last. As the nation's most trusted industrial commercial roofing contractor, our primary focus is to build on our relationship by anticipating your roof's needs, not the next sale. By standing on a foundation built on integrity through exceptional engineering and customer service, we hope to earn your trust today and into the future.
Commercial Roofing Contractors with an Engineering Focus
From roof replacement, recovery to remediation through coatings, the road to your roof challenges getting solved starts with us listening. The first consultation you have with our highly trained and accredited engineers will show another benefit to choosing a national contractor with the resources you need, whenever you need them. Need emergency response? With our 24/7/365 Service Department and the industry's best preventative maintenance program StarCare, you can rest easy. With us as your trusted commercial roofing partner, you also benefit with competitive pricing on snow removal to leak repairs, and from custom metal fabrication to energy audits and analysis.
Our Foundation? A Cherished Family History Steeped in Roofing for More than 40 Years
The power of good people, good ideas, and good values, all working together are the bedrocks on which majority owner Carl Verble along with C. Michael Verble and Patrick R. Verble founded North American Roofing in 1979. These attributes are the keys to our sustained success and stellar customer satisfaction in both commercial and industrial roofing. Equal credit goes to the Verble family's keen eye for mutual opportunities and their skillful touch at attracting and retaining a talented team.
Transforming Commercial Roofing
Back in the day, roofers churned through day laborers willing to take on the heat and harsh toil of installing or replacing commercial roofs. Turnover—if not always pride and expertise—ran high. By contrast, from the beginning, North American Roofing was built on a team and family model. Recruiting and hiring based on character, attitude, and integrity, the Verbles gathered together the sorts of people you'd hope would stand between your property and the relentless elements.
Family Values
Soon after its founding, North American Roofing became a second home to a group of talented, tight-knit installers, project managers, salespeople, technicians, and managers. The company supported the team with solid training, first-rate tools, professionalism, and rewards for loyalty and a job well done.
Carl's son, C. Michael Verble, joined North American Roofing in 1988 as Director of Sales. Under Mike's leadership and through the vision and spirit of the entire Verble family, the company's sales reached new heights. With this new sales success brought forth the next chapter of North American Roofing's already rich history. In 1989, Mike Verble took the reins with pride, purchased the company from the family, and became North American Roofing's sole owner as well as its new Chairman & CEO.
Early Success with Solid Growth
During Mike's tenure as Chairman & CEO, North American Roofing earned a place among the Inc. 500 list of the "Top Ten Fastest-Growing Companies." Firestone, propelled by our growth, also became the nation's largest producer of single-ply roofing, crowning a classic win-win relationship.
New Owners, Same Goals
In 2018, North American Roofing announced the investment and new ownership by one of the nation's leading lower middle market private equity firms, Silver Oak Services Partners, LLC. With a keen eye for technological innovation, strong leadership, and some of the best minds in the roofing industry, North American Roofing continues to be the most trusted and respected commercial roofing company in the United States.
Our Values
Commercial and industrial roofing isn't built simply on rubber membranes, asphalt, and fabricated metals. The companies that stand behind their roofs (truly stand behind them) are few and far between. But at North American Roofing, and in each of our commercial roofing and industrial jobs, we take pride in our experience and our values. We call them S.T.A.R. values because they stand for Service, Accountability, Teamwork, and Respect. When you look at our work, it's those values you'll also see. Every time.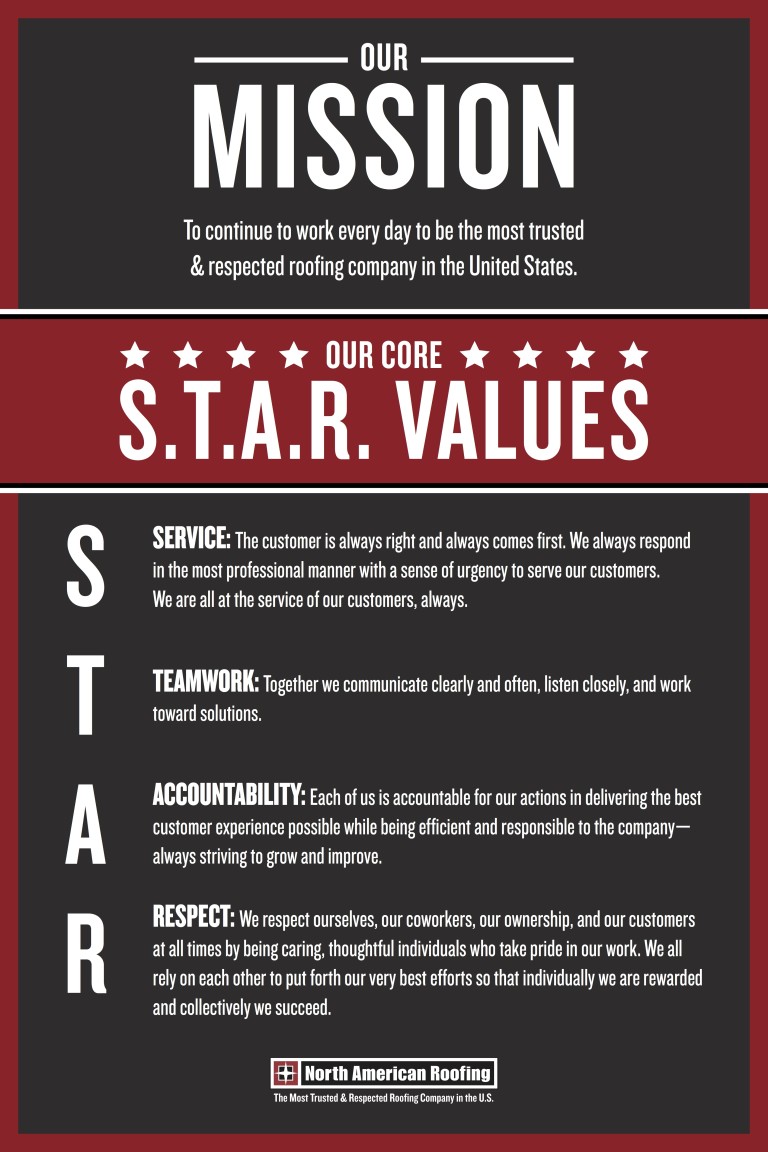 ---
North American Roofing
14025 Riveredge Drive, Suite 600
Tampa FL 33637

M-F 8:00am - 5:00pm

,

Sat & Sun 8:00am - 2:00pm
---
North American Roofing
Asheville NC 28805

M-F 8:00am - 5:00pm

,

Sat & Sun 8:00am - 2:00pm
---