We Are Your Go-To Roofing Contractor In Orlando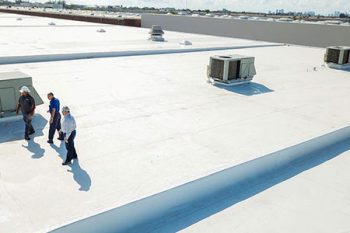 If you are a business owner in need of commercial roofing services, don't hesitate to give us a call. Our team specializes in emergency roof repair, roof installation, and commercial roof maintenance for flat roofs, including single-ply roofing like TPO, EPDM, and PVC. Our team can handle all manner of commercial roofing projects, from large industrial warehouses and manufacturing facilities to retail stores and more. We strive to give our clients peace of mind knowing that their roof is in good hands with North American Roofing's experienced and professional roofers. Give us a call today!
For Professional Roof Installation Give Us A Call
At North American Roofing, we are a commercial roofing contractor with over 43 years of experience, and we take pride in our workmanship. Our team is highly trained and has a thorough knowledge of the various commercial roofing installation materials like TPO, EPDM, PVC and modified bitumen. During our installation process, we take special care to pay attention to even the smallest details to ensure your property is protected for years to come. If you need commercial roofing services, don't hesitate to give us a call.
Your roof is one of the most important investments you will make for your business. A properly installed commercial roof system can last for decades, protecting your property and providing a comfortable work environment for your employees. However, commercial roofing systems are subject to wear and tear over time, and occasional repairs may be necessary to keep them in top condition. That's where North American Roofing comes in. Our team has experience installing and repairing various roofing materials for flat roofs. We work with the utmost attention to detail to ensure that your commercial roof repair protects your property from structural damage, boosts energy efficiency, and provides your business with a professional appearance.
When You Need A Roof Replacement We're Here To Help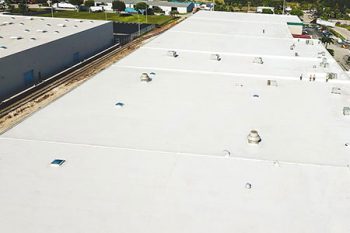 There are many reasons why you might need a roof replacement. Strong winds from storms, falling trees, or a severe roof leak that lead to water damage can all cause irreparable devastation to your roof. At North American Roofing, we provide comprehensive roof inspections to assess the damage and determine if a commercial roof replacement is necessary. Our team will walk you through all of your options for different roofing systems and help you decide on the best solution for your property. We have years of experience in the roofing industry and have provided new roofs and emergency roof repairs for many warehouses, industrial complexes, and other commercial buildings in Orlando, FL and across the U.S. If your current roof has been damaged by a storm or is beyond its expiration date, don't hesitate to reach out to our commercial roofing team today!
The Search For Roof Repair Near Me Is Over
At North American Roofing, we understand that commercial property owners need a durable roof that they can depend on. Our team is here to provide you with the complete roof services you need, from commercial roofing repair to complete replacements and maintenance. We work with industry-leading manufacturers like GAF, Firestone, Carlisle SynTec, and more. Our exceptional customer service is second to none. When you're looking for an experienced team to repair, install or replace your commercial roof, don't hesitate to give us a call!
About Orlando, FL
\
Being in The Sunshine State, Orlando receives more than its fair share of hot and sunny days throughout the year. Unfortunately, these warm temperatures mean increased electricity bills for business owners. The Office of Energy Efficiency & Renewable Energy states that commercial buildings account for nearly 20% of all the energy used in the United States. And while there are many ways to combat this, one of the most worthwhile methods is to install an energy-efficient roof system. At North American Roofing, we install various types of commercial roofing materials, including TPO, PVC, and more. These high-quality products help reflect sunlight and keep your building cooling in the summer months. Give us a call today to learn more!
Neighborhoods
South Eola
,
Thornton Park
,
Bryn Mawr
,
Rose Isle
,
Audubon Park
,
Coytown
,
Colonialtown North
,
South Division
,
Malibu Groves
,
Signal Hill
,
Lake Weldona
,
Lake Formosa
,
Colonial Town Center
,
Lake Dot
,
Parramore
,
Park Lake/Highland
,
Lancaster Park
,
Crescent Park
,
Lake Como
,
Lake Cherokee
,
Lorna Doone
,
Callahan
,
College Park
,
Johnson Village
,
Hibiscus
,
Rowena Gardens
,
Westfield
,
Eagles Nest
,
Orwin Manor
,
Rio Grande Park
,
Westfield
,
Lawsona/Fern Creek
,
The Dovers
,
Lake Copeland
,
The Willows
,
Lake Terrace
,
Rock Lake
,
New Malibu
,
Palomar
,
Florida Center North
,
Lake Richmond
,
Lake Underhill
,
Lake Sunset
,
Southern Oaks
,
Dover Estates
,
Spring Lake
,
South Semoran
,
Catalina
,
Dover Shores West
,
Lake Holden
,
Lake Mann Gardens
,
Delaney Park
,
Engelwood Park
,
Lake Eola Heights
,
Belle Air
,
Lake Mann Estates
,
Timberleaf
,
Lake Fairview
,
Dover Manor
,
Carver Shores
,
Washington Shores
,
Southwest Orlando
,
Richmond Heights
,
North Orange
,
Dover Shores East
,
Haralson Estates
,
Wadeview Park
,
Richmond Estates
,
Northeast Orlando
,
Lake Fredrica
,
Vista Park
,
Colonialtown South
,
Lake Davis/Greenwood
,
33rd Street Industrial
,
Baldwin Park
,
Mercy Drive
,
Metro West
,
Seaboard Industrial
,
Princeton/Silver Star
,
South Orange
,
Clear Lake
,
Central Business District