We Provide 24 Hour Roofing Service In Tampa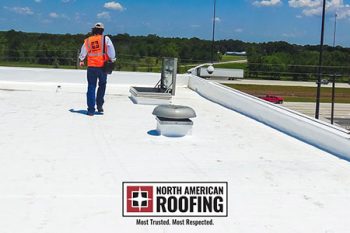 At North American Roofing, we understand that weather can be unpredictable and devastating at times. But, as a business owner, we know that roofing emergencies can spell disaster for your productivity. If the roof on your commercial property has been impacted by a storm and you have roof leaks, damaged roofing materials, or punctures from fallen debris, don't hesitate to give us a call. Our team works closely with business owners throughout Tampa, FL and across the U.S to provide emergency commercial roofing services. With our 24/7/365 service department and StarCare™ preventative maintenance programs, you can rest easy knowing that our commercial roofing company has you covered.
When You Need A Snow Removal Service We're Here To Help
Mother Nature can bring about a lot of damaging weather conditions like hurricanes, hail, and wind storms which can affect all types of roofs. And while snow might not seem like a dangerous thing for your roof, it can actually have devastating consequences if it's not dealt with properly. When snow builds up on a low-sloped roof, it can push the limits of the weight capacity and lead to a partial or total roof collapse. Not only can this cause severe damage to your property, but it can also put you, your employees, and your customers at risk. At North American Roofing, we provide emergency roofing services to restore any structural damage and provide you with dependable commercial roofing solutions to protect your property in the future. Proper roof maintenance is crucial, especially during the winter months and can help prevent other issues like roof leaks. Give us a call today and speak with an experienced roofing contractor.
Give Us A Call For An Emergency Roof Replacement Today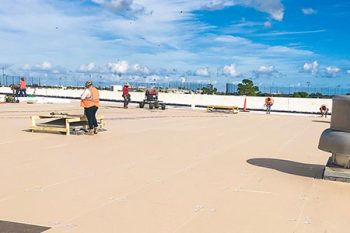 After a severe weather event, you may find that your roof needs some emergency repairs. If sections of your roof have been lifted or completely torn off, immediate repairs need to be completed to stop any current leaks and give our roofing specialists time to assess the damage. North American Roofing is here to provide the emergency services you need. We have a team of experienced professionals who are available 24/7 to help you with your roofing emergency. We understand the importance of getting your roof repaired as quickly as possible and will work diligently to get the job done right.
In the case of extensive damage, your commercial roofing contractor at North American Roofing will work with you to provide a complete roof replacement. We have decades of experience repairing and installing various commercial roofing systems and will help you select the best choice of roofing material for your new roof. Contact us today for more information about our emergency roof repair services and commercial roofing installations.
The Search For Emergency Roof Repair Near Me Is Over
With over 43 years of commercial roofing experience, our emergency roofing experts have seen just about everything. We work closely with property owners throughout the Tampa area and across the U.S to provide the commercial roofing solutions they need at the affordable prices they deserve. At North American Roofing, our focus is on service, teamwork, accountability, and respect. We work with industry-leading manufacturers to provide innovative solutions to all your roofing problems. If your commercial building has been affected by a disaster, don't hesitate to call North American Roofing today!
About Tampa, FL
The state of Florida has a subtropical climate and is no stranger to extreme weather events like hurricanes, tornadoes, heavy rain showers, and lightning storms. For business owners, these harsh conditions can spell trouble for your commercial roof in Tampa, FL. Just like any investment, your roof needs to be monitored and protected in order for you to achieve a positive ROI. While commercial roofs are typically built to last for many years, regular maintenance can help you avoid expensive repairs and extend the life expectancy of your roof. Business owners can save $.11/ft over the time of their roof's lifespan with routine roof maintenance. Our team at North American Roofing is here to help protect your investment. Give us a call today to learn more!
Neighborhoods
South Tampa
,
West Tampa
,
North Tampa
,
Tampa Heights
,
Channel District
,
East Tampa
,
Fern Cliff
New Tampa
,
Old West Tampa
,
New Suburb Beautiful
,
Seminole Heights
,
Beach Park
,
Riverside Heights
,
Ybor Heights
Grant Park
,
Tampa Palms
,
Bon Air
,
Uptown Tampa
,
Plaza Terrace
,
East Ybor
,
South Seminole Heights
North Bon Air
,
Virginia Park
,
Wellswood
,
Belmont Heights
,
Lowry Park North
,
Southeast Seminole Heights
,
Rivergrove
Rivercrest
,
Northwest Tampa
,
Oakford Park
,
University Square
,
Palmetto Beach
,
Woodland Park
,
Bayshore Gardens
Hyde Park
,
Palma Ceia West
,
Sun Bay South
,
Downtown
,
Jackson Heights
,
Northeast Mcfarlane
,
Historic Hyde Park North
West Riverfront
,
Tampa Overlook
,
Bayshore Beautiful
,
College Hills
,
Palma Ceia
,
Beach Park Isles