Commercial roofing services since 1979
Commercial and industrial roofing with a simple goal: your success.
Fill Out The Form Below To Begin Your Roof Estimate
We Are Your Go-To Roofing Contractor In Tampa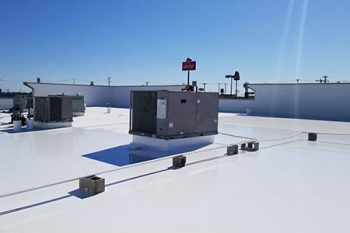 If you are a business owner in need of commercial roofing services, don't hesitate to give us a call. Our team specializes in emergency roof repair, roof installation, and commercial roof maintenance for flat roofs, including single-ply roofing like TPO, EPDM, and PVC.
Our team can handle all manner of commercial roofing projects, from large industrial warehouses and manufacturing facilities to retail stores and more. We strive to give our clients peace of mind knowing that their roof is in good hands with North American Roofing's experienced and professional roofers. Give us a call today!
For Professional Roof Installation, Give Us A Call
At North American Roofing, we are a commercial roofing contractor with over 43 years of experience, and we take pride in our workmanship. Our team is highly trained and has a thorough knowledge of the various commercial roofing materials like TPO, EPDM, PVC and modified bitumen. During our installation process, we take special care to pay attention to even the smallest details to ensure your property is protected for years to come. If you need commercial roofing services, don't hesitate to give us a call.
Your roof is one of the most important investments you will make for your business. A properly installed commercial roof system can last for decades, protecting your property and providing a comfortable work environment for your employees. However, commercial roofing systems are subject to wear and tear over time, and occasional repairs may be necessary to keep them in top condition. That's where North American Roofing comes in. Our team has experience installing and repairing various roofing materials for flat roofs. We work with the utmost attention to detail to ensure that your commercial roof repair protects your property from structural damage, boosts energy efficiency, and provides your business with a professional appearance.
When You Need A Roof Replacement We're Here To Help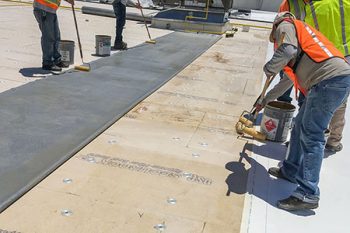 There are many reasons why you might need a roof replacement. Strong winds from storms, falling trees, or a severe roof leak that lead to water damage can all cause irreparable devastation to your roof. At North American Roofing, we provide comprehensive roof inspections to assess the damage and determine if a commercial roof replacement is necessary. Our team will walk you through all of your options for different roofing systems and help you decide on the best solution for your property. We have years of experience in the roofing industry and have provided new roofs and emergency roof repairs for many warehouses, industrial complexes, and other commercial buildings in Tampa, FL and across the U.S. If your current roof has been damaged by a storm or is beyond its expiration date, don't hesitate to reach out to our commercial roofing team today!
From Small Repairs To Full Replacements, Our Team Is Here To Help With All Your Roofing Needs
At North American Roofing, we believe in taking a proactive approach to protecting our client's investments with comprehensive plans and preventative maintenance. That's why our StarCare™ program is such a valuable tool for commercial roof owners. This program facilitates routine reviews of your roof's condition and provides priority repair coverage in the event of leaks. Along with detailed yearly reports, the program also offers set pricing for common services and discounts for larger projects—allowing customers to budget confidently and safely for their roofs. Our field team is ready to provide you with any services necessary and has unparalleled knowledge in working on commercial roofs across the US. Take advantage of our industry-leading service today and enjoy the peace of mind that comes with knowing that your building is safe and sound!
Our Roofing Services Include:
Roof Repair
Roof Maintenance
Emergency Roofing
Roof Coating
Metal Roofing
Flat Roof Installation
The Search For Roof Repair Near Me Is Over
At North American Roofing, we understand that commercial property owners need a durable roof that they can depend on. Our team is here to provide you with the complete roof services you need, from commercial roofing repair to complete replacements and maintenance. We work with industry-leading manufacturers like GAF, Firestone, Carlisle SynTec, and more. Our exceptional customer service is second to none. When you're looking for an experienced team to repair, install or replace your commercial roof, don't hesitate to give us a call!
North American Roofing
Common Commercial Roof Installation Questions
What types of commercial roofs are available for installation? There are several types of commercial roofs available, including built-up roofs, single-ply roofs (such as TPO or PVC), modified bitumen roofs, and metal roofs. The best option for your building will depend on factors such as your budget, the climate in your area, and the type of building you have.
How long does a commercial roof installation take? The timeline for a commercial roof installation can vary depending on the size and complexity of the project. However, a typical installation can take anywhere from a few days to a few weeks. Factors that can affect the timeline include weather conditions, the type of roof being installed, and any necessary repairs or preparations that need to be made before the installation.
What kind of maintenance is required for a commercial roof after installation? Regular maintenance is crucial to extend the lifespan of a commercial roof. This can include cleaning debris off the roof, inspecting and repairing any damage or leaks, and ensuring proper drainage. It's also important to have a professional inspect the roof regularly to identify any potential issues before they become major problems.
How much does a commercial roof installation cost?The cost of a commercial roof installation can vary depending on a number of factors, such as the size and type of roof, the materials used, and the complexity of the installation. It's best to get a detailed quote from a reputable roofing contractor to get a more accurate idea of the cost.
How do I choose a reliable commercial roofing contractor?Choosing a reliable and experienced roofing contractor is important to ensure a quality installation and long-lasting roof. Look for contractors with a proven track record of successful commercial roof installations, proper licensing and insurance, and positive customer reviews.
Your Search For A Commercial Roofing Company Near Me Just Ended
We offer commercial roofing solutions to business owners across the country, with locations in all 50 states. We specialize in providing high-quality roofing services that are tailored to the needs of our local communities. Our nearby location makes it easy for you to get the assistance you need quickly and efficiently.
We're just a short drive from your favorite locations in Tampa, FL, including Busch Gardens, The Florida Aquarium, and ZooTampa! Directions To North American Roofing
North American Roofing Is Just A Short Drive From Your Local Transit Stations!
North American Roofing is here to offer convenient and reliable commercial roofing services to customers in the surrounding area. Our team is based just a stone's throw away from the University Area Transit Center, Marion Transit Center, and Hillsborough Area Regional Transit, making commuting to our location an absolute breeze. We offer exceptional quality of workmanship backed by a 24/7 service that provides our customers with the utmost confidence when it comes to their roofs' protection. And with competitive pricing, you can rest assured that your budget won't feel the strain. Put your trust in North American Roofing and make sure your property's roof is taken care of! Local Transit Directions To North American Roofing
We Work With Big And Small Businesses In Many Neighborhoods Throughout Tampa, FL, Including:
33637 33617 33620 33610 33647 33584 33612 33613 33604 33550 33583 33592 33603 33559 33510 33549 33688 33605 33618 33694 33689 33509 33508 33646 33619 33602 33601 33687 33686 33674 33630 33631 33631 33650 33685 33655 33660 33672 33673 33623 33622 33675 33677 33679 33680 33681 33682 33684 33614 33548 33624
Check Out Some Of Our Reviews From Local Customers!
"We called on North American roofing to fix our damaged roof. There was a lot of hail damage due to the recent storm. I would highly recommend North American roofing if you need your roof repaired in Tampa!" -Joseph H.
"I called North American Roofing for a commercial roof installation at our Tampa location. From the moment I reached out to them, it was clear that they were dedicated to providing top-notch service…" -Samuel S.
About Tampa, FL
Tampa, Florida, affectionately known as "The Big Guava," is a vibrant city nestled along the stunning Gulf Coast. With its warm and sunny climate, Tampa offers residents and visitors a delightful blend of captivating culture, breathtaking natural beauty, and thrilling entertainment. Home to a diverse population, this coastal gem boasts a rich history, evident in its charming historic districts, such as Ybor City, where the legacy of the cigar industry lives on. Beyond its captivating past, Tampa is a city on the rise, with a thriving economy and a burgeoning arts and culinary scene. From exploring the world-class museums and art galleries to indulging in delectable cuisine at its numerous eateries, there is always something exciting to experience. Outdoor enthusiasts can take advantage of the city's picturesque beaches, including the famous Clearwater Beach, and enjoy a wide array of water sports and recreational activities. Tampa is also renowned for its sporting events, with the electrifying energy of the NFL's Tampa Bay Buccaneers and the NHL's Tampa Bay Lightning captivating fans throughout the year. Whether you seek relaxation, adventure, or a vibrant urban experience, Tampa offers a little something for everyone, making it an enticing destination worth discovering.
Directions To North American Roofing