Get A Comprehensive Roof Inspection Today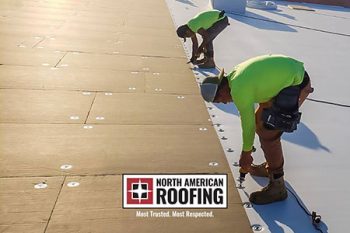 At North American Roofing, we are a commercial roofing contractor with over 43 years of combined experience. We continuously strive to be one of the best roofing companies in the United States for local and nationwide business owners. When you need a professional roof inspection, give us a call. We will perform a detailed roofing survey that includes a photo report analyzing the current condition of your roof and establish a roofing solution that will fit your budget, energy efficiency concerns, and business priorities. Our commercial roofing team is expertly trained in their field and can provide you with the best possible customer care and roofing services. Contact us today to schedule a commercial roof inspection.
For Professional Roof Leak Repair We're Here To Help
If you are a business owner, then you know that productivity is the key to success. A roof leak can cause major disruption and, if left unattended, lead to major water damage to your building. Working with a professional roofing contractor who can provide a quick and efficient emergency roof repair is essential. At North American Roofing, we specialize in commercial roofing services and have experience repairing all types of roofing materials, including EPDM, TPO, PVC, and more. If you have a leak due to roof storm damage, don't hesitate to give us a call.
From flat roofs to metal roofs, the best way to protect your investment is with comprehensive roofing solutions and a proactive maintenance plan. A roof that is well-maintained can last for decades, even beyond that of its original warranty period and avoid expensive roof replacement costs that can be used for other business-related expenditures. Experienced roofers and property owners know that a high-quality roofing maintenance plan isn't an option—it's an essential part of your financial business operations. Call North American Roofing today and speak to a roofing contractor about our unique StarCare™ maintenance program.
When You Need A Re-roof Give Us A Call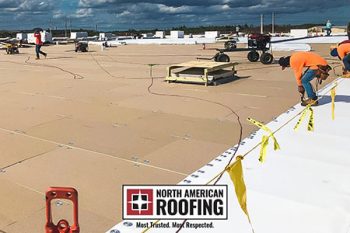 Having over 43 years of experience in the roofing industry, we know that our commercial clients are rarely eager to pay thousands of dollars for a roof replacement. Talking with a professional roofing contractor at our commercial roofing company may help you find affordable alternatives to a full replacement. Depending on the current condition of your roof and how many roofing systems you already have installed, you may be eligible for a re-roof. Instead of tearing off your current roof and replacing it, we can install a new roof over your existing one. A re-roof can save you a lot of money on labor costs, reduce waste going to landfills, and has a relatively quick turnaround time compared to a total replacement. Give us a call to speak with a roofing contractor today.
The Search For Roof Repair Near Me Is Over
Whether you need a new roof or simply some repairs, North American Roofing is here to help. Our roofing experts have experience with all types of commercial roofing projects, and we're always up for a challenge. We understand that a roof is a vital part of any business, and we'll work quickly and efficiently to get the job done right. We also offer preventative maintenance programs to help keep your roof in top condition. And if something does go wrong, we guarantee all of our repairs. So when your roof needs help, give us a call. We're always here to help.
About Tampa, FL
The state of Florida has a subtropical climate and is no stranger to extreme weather events like hurricanes, tornadoes, heavy rain showers, and lightning storms. For business owners, these harsh conditions can spell trouble for your commercial roof in Tampa, FL. Just like any investment, your roof needs to be monitored and protected in order for you to achieve a positive ROI. While commercial roofs are typically built to last for many years, regular maintenance can help you avoid expensive repairs and extend the life expectancy of your roof. Business owners can save $.11/ft over the time of their roof's lifespan with routine roof maintenance. Our team at North American Roofing is here to help protect your investment. Give us a call today to learn more!
Neighborhoods
South Tampa
,
West Tampa
,
North Tampa
,
Tampa Heights
,
Channel District
,
East Tampa
,
Fern Cliff
New Tampa
,
Old West Tampa
,
New Suburb Beautiful
,
Seminole Heights
,
Beach Park
,
Riverside Heights
,
Ybor Heights
Grant Park
,
Tampa Palms
,
Bon Air
,
Uptown Tampa
,
Plaza Terrace
,
East Ybor
,
South Seminole Heights
North Bon Air
,
Virginia Park
,
Wellswood
,
Belmont Heights
,
Lowry Park North
,
Southeast Seminole Heights
,
Rivergrove
Rivercrest
,
Northwest Tampa
,
Oakford Park
,
University Square
,
Palmetto Beach
,
Woodland Park
,
Bayshore Gardens
Hyde Park
,
Palma Ceia West
,
Sun Bay South
,
Downtown
,
Jackson Heights
,
Northeast Mcfarlane
,
Historic Hyde Park North
West Riverfront
,
Tampa Overlook
,
Bayshore Beautiful
,
College Hills
,
Palma Ceia
,
Beach Park Isles