Give Us A Call For Flat Roofing Installation Today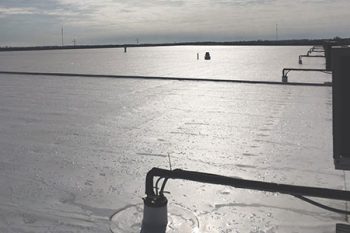 At North American Roofing, we specialize in various types of roofs for commercial property owners throughout the Orlando area. For over 43 years, our team has provided professional flat roof replacement and repair services with a focus on quality workmanship and exceptional customer service. When you need a roofing contractor with the skills to install and repair any type of roof material for flat roofing systems, don't hesitate to give us a call. We understand that each roof is unique and faces its own set of challenges. Our team is trained to deliver commercial roofing solutions that meet the specific needs of each customer. Whether you are looking for flat roof installation services or a professional roof inspection, North American Roofing is here to help.
We Provide The Flat Roofing Services You Can Depend On
When it comes to commercial roofing, flat roof systems are one of the most versatile and durable options available. At North American Roofing, we work with and install a wide range of flat roofing materials, including TPO, PVC, EPDM, and modified bitumen. So you can be sure you're getting the best possible roof for your needs. Our team will help evaluate your needs and help you make an informed decision about the best flat roofing option for your commercial building.
If you're looking for a flat roofing service that you can depend on, give us a call to learn more about installing a single-ply roofing membrane. Made from polyvinyl chloride, thermoplastic polyolefin, or ethylene propylene diene monomer, a single-layer membrane roof utilizes flexible sheets to cover and protect your entire roof. Our flat roof installation services will ensure that your property is sheltered from the rain, wind, snow, and sun for many years.
Flat Roof Materials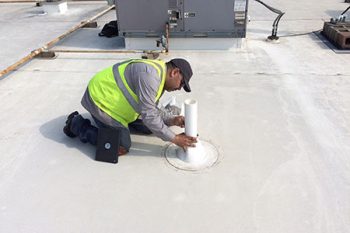 At North American Roofing, we provide a wide range of quality materials for you to choose from. Our team of experienced roofing contractors will walk you through all of the flat roof options available to you and help you determine the best fit for your property. There are many factors to consider when selecting your material, including durability, curb appeal, energy efficiency, and more. No matter what your budget or needs are, we have a roofing solution that's right for you.
Our roofing company can provide your facility with an environmentally-conscious roofing choice like EPDM. Not only does this synthetic rubber elastomer provide superior strength and flexibility, but its impervious surface doesn't pollute water runoff. Additionally, we can install black EPDM commercial roofing systems in areas with cooler climates to help reduce the heating costs for your facility.
Modified bitumen roofing systems have been a popular choice among commercial property owners for many years. This type of roofing is extremely durable and can withstand a high amount of traffic. Modified bitumen roofing is thicker than a built-up roof system and can therefore provide greater protection for your facility.
Elastomeric roof coatings are a versatile and affordable option for protecting low-slope roofs. These coatings can be applied to metal, modified bitumen, single-ply membrane, and built-up roof (BUR) systems, providing an extra layer of defense against the elements. In addition to extending the life of your roof, elastomeric coatings can also help to reduce energy costs by reflecting sunlight and keeping your building cooler in the summer months. If you're interested in learning more about this type of roof coating, contact North American Roofing today.
The Search For Flat Roof Installation Near Me Is Over
North American Roofing is committed to providing our customers with the best possible roofing solutions. Our team of experienced professionals offers a wide range of services, from flat roofing and emergency repairs to maintenance and more. When you choose North American Roofing, you can rest assured that you're making the best possible decision for your roof. Our StarCare™ program offers a variety of benefits that are designed to help extend the life of your roof and maximize your investment. With three distinct plans to choose from, you can find the perfect coverage for your needs. Contact us today to learn more about how we can help you care for your roof.
About Orlando, FL
Being in The Sunshine State, Orlando receives more than its fair share of hot and sunny days throughout the year. Unfortunately, these warm temperatures mean increased electricity bills for business owners. The Office of Energy Efficiency & Renewable Energy states that commercial buildings account for nearly 20% of all the energy used in the United States. And while there are many ways to combat this, one of the most worthwhile methods is to install an energy-efficient roof system. At North American Roofing, we install various types of commercial roofing materials, including TPO, PVC, and more. These high-quality products help reflect sunlight and keep your building cooling in the summer months. Give us a call today to learn more!
Neighborhoods
South Eola
,
Thornton Park
,
Bryn Mawr
,
Rose Isle
,
Audubon Park
,
Coytown
,
Colonialtown North
,
South Division
,
Malibu Groves
,
Signal Hill
,
Lake Weldona
,
Lake Formosa
,
Colonial Town Center
,
Lake Dot
,
Parramore
,
Park Lake/Highland
,
Lancaster Park
,
Crescent Park
,
Lake Como
,
Lake Cherokee
,
Lorna Doone
,
Callahan
,
College Park
,
Johnson Village
,
Hibiscus
,
Rowena Gardens
,
Westfield
,
Eagles Nest
,
Orwin Manor
,
Rio Grande Park
,
Westfield
,
Lawsona/Fern Creek
,
The Dovers
,
Lake Copeland
,
The Willows
,
Lake Terrace
,
Rock Lake
,
New Malibu
,
Palomar
,
Florida Center North
,
Lake Richmond
,
Lake Underhill
,
Lake Sunset
,
Southern Oaks
,
Dover Estates
,
Spring Lake
,
South Semoran
,
Catalina
,
Dover Shores West
,
Lake Holden
,
Lake Mann Gardens
,
Delaney Park
,
Engelwood Park
,
Lake Eola Heights
,
Belle Air
,
Lake Mann Estates
,
Timberleaf
,
Lake Fairview
,
Dover Manor
,
Carver Shores
,
Washington Shores
,
Southwest Orlando
,
Richmond Heights
,
North Orange
,
Dover Shores East
,
Haralson Estates
,
Wadeview Park
,
Richmond Estates
,
Northeast Orlando
,
Lake Fredrica
,
Vista Park
,
Colonialtown South
,
Lake Davis/Greenwood
,
33rd Street Industrial
,
Baldwin Park
,
Mercy Drive
,
Metro West
,
Seaboard Industrial
,
Princeton/Silver Star
,
South Orange
,
Clear Lake
,
Central Business District