Commercial roofing services since 1979
Commercial and industrial roofing with a simple goal: your success.
Fill Out The Form Below To Begin Your Roof Estimate
We Provide The Advanced Commercial Roofing You Need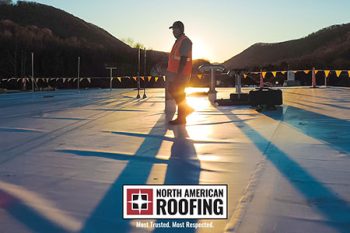 At North American Roofing, we are a commercial roofing contractor that has been in business for over 43 years. We offer a wide range of commercial roofing services, including repairs and replacements to businesses of all sizes. Our team works closely with our clients to ensure they receive the quality workmanship they expect. With our years of extensive roofing experience, we know the demanding roofing challenges that come with being a commercial property owner, and we will work with you to provide not only the complete roof services you need but also the positive customer experience you deserve. So, if you're on the hunt for dependable roofing systems for your commercial property give us a call and we will be happy to discuss your options.
Get EPDM Roofing Installed Today
Our commercial roofing company has been installing EPDM roof membranes since 1979. As one of the leading flat roof materials in the industry, EPDM boasts a wide range of benefits. As the Tampa Bay area is home to a variety of weather conditions like harsh sunlight, strong winds, and hail, business owners can rest assured that their EPDM roof will withstand it all. Additionally, EPDM makes flat roofing repairs and maintenance a breeze. While other materials degrade over time, EPDM remains strong and flexible, which makes repairing small problems as simple as washing the material, prepping the surface, and applying the new material. At North American Roofing, we work with top manufacturers in the roofing industry like Johns Manville, Firestone, and Carlisle SynTec to provide our commercial customers with the dependable roof replacement, repair, and maintenance services they can trust.
When You Want PVC Roofing We're Here To Help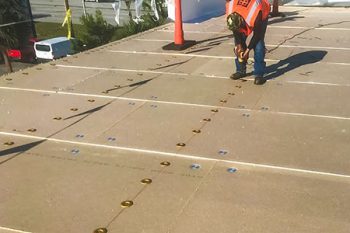 Our team of roofing experts has over four decades of combined experience working on commercial roofing projects throughout the Tampa Bay area, and across the U.S. We know that finding an effective roofing solution is critical to protecting your investment.
PVC roofing is a single-ply membrane that is well known for being one of the longest-lasting and cost-effective roofing systems. PVC is also an excellent choice for those who are environmentally conscious as it has an excellent Energy Star rating and is made with recyclable materials. If you are concerned about grease, oil, or other chemicals, PVC is the way to go because of its highly resistant surface. Our team at North American Roofing partners with manufacturers like Sika Sarnafil, Johns Manville, GAF, and Firestone for our advanced roofing systems. Give us a call for a roofing estimate or if you need a repair for roof leaks.
We Are Your Go-To Modified Roofing Contractors
As a roofing contractor, our goal is to provide our clients with the most reliable roofing services possible. Modified bitumen is an incredibly durable material that is ideal for business owners that want a thicker roof with more resistance to building movement than a built-up roof. At North American Roofing, we are proud to offer a wide range of roofing options and materials to our commercial clients in the Tampa Bay area and throughout the United States. We provide comprehensive roof inspections and work closely with our customers the find the best solution for their needs and budget. Additionally, we offer our extensive StarCare™ maintenance plan to ensure your roof stays in peak condition. Give us a call and speak with an experienced roofer today!
About Tampa, FL
The state of Florida has a subtropical climate and is no stranger to extreme weather events like hurricanes, tornadoes, heavy rain showers, and lightning storms. For business owners, these harsh conditions can spell trouble for your commercial roof in Tampa, FL. Just like any investment, your roof needs to be monitored and protected in order for you to achieve a positive ROI. While commercial roofs are typically built to last for many years, regular maintenance can help you avoid expensive repairs and extend the life expectancy of your roof. Business owners can save $.11/ft over the time of their roof's lifespan with routine roof maintenance. Our team at North American Roofing is here to help protect your investment. Give us a call today to learn more!
Neighborhoods
South Tampa
,
West Tampa
,
North Tampa
,
Tampa Heights
,
Channel District
,
East Tampa
,
Fern Cliff
New Tampa
,
Old West Tampa
,
New Suburb Beautiful
,
Seminole Heights
,
Beach Park
,
Riverside Heights
,
Ybor Heights
Grant Park
,
Tampa Palms
,
Bon Air
,
Uptown Tampa
,
Plaza Terrace
,
East Ybor
,
South Seminole Heights
North Bon Air
,
Virginia Park
,
Wellswood
,
Belmont Heights
,
Lowry Park North
,
Southeast Seminole Heights
,
Rivergrove
Rivercrest
,
Northwest Tampa
,
Oakford Park
,
University Square
,
Palmetto Beach
,
Woodland Park
,
Bayshore Gardens
Hyde Park
,
Palma Ceia West
,
Sun Bay South
,
Downtown
,
Jackson Heights
,
Northeast Mcfarlane
,
Historic Hyde Park North
West Riverfront
,
Tampa Overlook
,
Bayshore Beautiful
,
College Hills
,
Palma Ceia
,
Beach Park Isles