We Provide 24 Hour Roofing Service In Orlando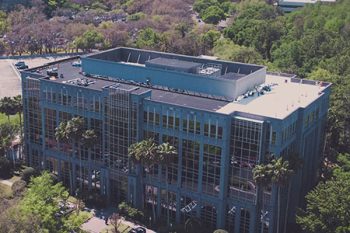 At North American Roofing, we understand that weather can be unpredictable and devastating at times. But, as a business owner, we know that roofing emergencies can spell disaster for your productivity. If the roof on your commercial property has been impacted by a storm and you have roof leaks, damaged roofing materials, or punctures from fallen debris, don't hesitate to give us a call. Our team works closely with business owners throughout Orlando, FL and across the U.S to provide emergency commercial roofing services. With our 24/7/365 service department and StarCare™ preventative maintenance programs, you can rest easy knowing that our commercial roofing company has you covered.
Give Us A Call For An Emergency Roof Replacement Today
After a severe weather event, you may find that your roof needs some emergency repairs. If sections of your roof have been lifted or completely torn off, immediate repairs need to be completed to stop any current leaks and give our roofing specialists time to assess the damage. North American Roofing is here to provide the emergency services you need. We have a team of experienced professionals who are available 24/7 to help you with your roofing emergency. We understand the importance of getting your roof repaired as quickly as possible and will work diligently to get the job done right.
In the case of extensive damage, your commercial roofing contractor at North American Roofing will work with you to provide a complete roof replacement. We have decades of experience repairing and installing various commercial roofing systems and will help you select the best choice of roofing material for your new roof. Contact us today for more information about our emergency roof repair services and commercial roofing installations.
When You Need A Snow Removal Service We're Here To Help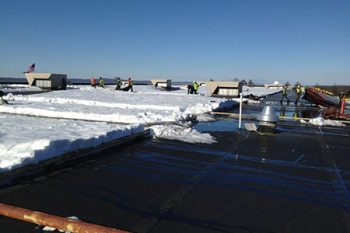 Mother Nature can bring about a lot of damaging weather conditions like hurricanes, hail, and wind storms which can affect all types of roofs. And while snow might not seem like a dangerous thing for your roof, it can actually have devastating consequences if it's not dealt with properly. When snow builds up on a low-sloped roof, it can push the limits of the weight capacity and lead to a partial or total roof collapse. Not only can this cause severe damage to your property, but it can also put you, your employees, and your customers at risk. At North American Roofing, we provide emergency roofing services to restore any structural damage and provide you with dependable commercial roofing solutions to protect your property in the future. Proper roof maintenance is crucial, especially during the winter months and can help prevent other issues like roof leaks. Give us a call today and speak with an experienced roofing contractor.
The Search For Emergency Roof Repair Near Me Is Over
With over 43 years of commercial roofing experience, our emergency roofing experts have seen just about everything. We work closely with property owners throughout the Orlando area and across the U.S to provide the commercial roofing solutions they need at the affordable prices they deserve. At North American Roofing, our focus is on service, teamwork, accountability, and respect. We work with industry-leading manufacturers to provide innovative solutions to all your roofing problems. If your commercial building has been affected by a disaster, don't hesitate to call North American Roofing today!
About Orlando, FL
Being in The Sunshine State, Orlando receives more than its fair share of hot and sunny days throughout the year. Unfortunately, these warm temperatures mean increased electricity bills for business owners. The Office of Energy Efficiency & Renewable Energy states that commercial buildings account for nearly 20% of all the energy used in the United States. And while there are many ways to combat this, one of the most worthwhile methods is to install an energy-efficient roof system. At North American Roofing, we install various types of commercial roofing materials, including TPO, PVC, and more. These high-quality products help reflect sunlight and keep your building cooling in the summer months. Give us a call today to learn more!
Neighborhoods
South Eola
,
Thornton Park
,
Bryn Mawr
,
Rose Isle
,
Audubon Park
,
Coytown
,
Colonialtown North
,
South Division
,
Malibu Groves
,
Signal Hill
,
Lake Weldona
,
Lake Formosa
,
Colonial Town Center
,
Lake Dot
,
Parramore
,
Park Lake/Highland
,
Lancaster Park
,
Crescent Park
,
Lake Como
,
Lake Cherokee
,
Lorna Doone
,
Callahan
,
College Park
,
Johnson Village
,
Hibiscus
,
Rowena Gardens
,
Westfield
,
Eagles Nest
,
Orwin Manor
,
Rio Grande Park
,
Westfield
,
Lawsona/Fern Creek
,
The Dovers
,
Lake Copeland
,
The Willows
,
Lake Terrace
,
Rock Lake
,
New Malibu
,
Palomar
,
Florida Center North
,
Lake Richmond
,
Lake Underhill
,
Lake Sunset
,
Southern Oaks
,
Dover Estates
,
Spring Lake
,
South Semoran
,
Catalina
,
Dover Shores West
,
Lake Holden
,
Lake Mann Gardens
,
Delaney Park
,
Engelwood Park
,
Lake Eola Heights
,
Belle Air
,
Lake Mann Estates
,
Timberleaf
,
Lake Fairview
,
Dover Manor
,
Carver Shores
,
Washington Shores
,
Southwest Orlando
,
Richmond Heights
,
North Orange
,
Dover Shores East
,
Haralson Estates
,
Wadeview Park
,
Richmond Estates
,
Northeast Orlando
,
Lake Fredrica
,
Vista Park
,
Colonialtown South
,
Lake Davis/Greenwood
,
33rd Street Industrial
,
Baldwin Park
,
Mercy Drive
,
Metro West
,
Seaboard Industrial
,
Princeton/Silver Star
,
South Orange
,
Clear Lake
,
Central Business District