We Are Your Go-To Commercial Roof Company In Orlando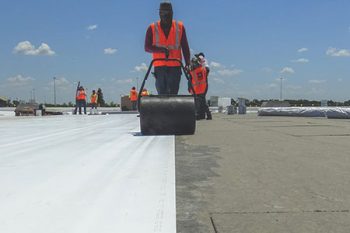 At North American Roofing, we specialize in roof repair and replacements for commercial property owners in Orlando, FL, and across the U.S. We have over 43 years of experience in the roofing industry and utilize the highest quality materials from top manufacturers like GAF, Firestone, and Carlisle SynTec to ensure that your roof will be able to withstand the elements for years to come. If you have roof leaks or have been affected by a recent storm, don't hesitate to give us a call. Our roofing team will assess the damage through a thorough inspection, provide you with photo reports of the current condition of your roof, and determine what commercial roof repair options are available. If your roof has significant damage, we will walk you through the process of our commercial roofing replacements. Call us today to learn more.
When You Need A Reliable Commercial Roof Service We're Here To Help
Our commercial roofing company has years of experience providing minor repairs to complete replacements for various commercial roofing systems, including flat roofs. If your roof is beyond the point of repair, don't hesitate to call North American Roofing. Our team will work with you to find the roofing solutions that fit your needs. From selecting your roofing materials to walking you through the entire commercial roof installation process, you can count on us to handle all your commercial roofing projects. We understand that our clients want not only peace of mind for all their roofing services but also a level of customer care they won't get anywhere else. Our dedicated team strives to provide the excellent service you deserve while maintaining the industry standards you expect. Call North American Roofing today for professional roof replacements, repairs, and maintenance services.
Give Us A Call For A Commercial Roof Audit Today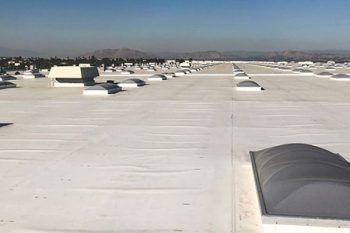 When it comes to commercial roofing, energy efficiency should be one of your top priorities. After all, your roof can be your best defense or your greatest enemy regarding energy costs. Fortunately, there are a variety of roofing materials and products on the market that can help you improve your building's energy efficiency. For example, reflective roof coatings can reflect sunlight away from your building, helping to keep it cooler in the summertime. In the winter, insulated roof panels can help keep heat from escaping, resulting in lower heating costs. Of course, there are several other factors to consider when choosing a roofing system for your commercial building.
North American Roofing takes a comprehensive approach to roof replacement projects, incorporating the latest technological innovations to ensure optimal energy efficiency. For commercial buildings, roof replacement offers an opportunity to significantly reduce energy costs by choosing a roofing system that maximizes reflectivity and insulation. Our team of roofing experts conducts a thorough energy audit and analysis to determine the most appropriate roofing solution for each individual project. This attention to detail ensures that our clients make an informed decision and ultimately achieve their desired level of energy efficiency.
The Search For A Commercial Roof Inspection Near Me Is Over
North American Roofing is proud to offer our StarCare™ maintenance program to commercial roofing clients. StarCare™ is an affordable roof asset management program designed to prolong the life of your existing roof systems. We provide regular inspections for all the information you need to forecast maintenance budgets for necessary roof repairs and replacements. As a commercial roofing contractor, we understand the importance of keeping your roof in good condition and our StarCare™ program is designed to do just that. With our commercial roofing services, we can help you repair any damage to your roof and plan for the future. Call us today to ask about our StarCare™ program.
About Orlando, FL
Being in The Sunshine State, Orlando receives more than its fair share of hot and sunny days throughout the year. Unfortunately, these warm temperatures mean increased electricity bills for business owners. The Office of Energy Efficiency & Renewable Energy states that commercial buildings account for nearly 20% of all the energy used in the United States. And while there are many ways to combat this, one of the most worthwhile methods is to install an energy-efficient roof system. At North American Roofing, we install various types of commercial roofing materials, including TPO, PVC, and more. These high-quality products help reflect sunlight and keep your building cooling in the summer months. Give us a call today to learn more!
Neighborhoods
South Eola
,
Thornton Park
,
Bryn Mawr
,
Rose Isle
,
Audubon Park
,
Coytown
,
Colonialtown North
,
South Division
,
Malibu Groves
,
Signal Hill
,
Lake Weldona
,
Lake Formosa
,
Colonial Town Center
,
Lake Dot
,
Parramore
,
Park Lake/Highland
,
Lancaster Park
,
Crescent Park
,
Lake Como
,
Lake Cherokee
,
Lorna Doone
,
Callahan
,
College Park
,
Johnson Village
,
Hibiscus
,
Rowena Gardens
,
Westfield
,
Eagles Nest
,
Orwin Manor
,
Rio Grande Park
,
Westfield
,
Lawsona/Fern Creek
,
The Dovers
,
Lake Copeland
,
The Willows
,
Lake Terrace
,
Rock Lake
,
New Malibu
,
Palomar
,
Florida Center North
,
Lake Richmond
,
Lake Underhill
,
Lake Sunset
,
Southern Oaks
,
Dover Estates
,
Spring Lake
,
South Semoran
,
Catalina
,
Dover Shores West
,
Lake Holden
,
Lake Mann Gardens
,
Delaney Park
,
Engelwood Park
,
Lake Eola Heights
,
Belle Air
,
Lake Mann Estates
,
Timberleaf
,
Lake Fairview
,
Dover Manor
,
Carver Shores
,
Washington Shores
,
Southwest Orlando
,
Richmond Heights
,
North Orange
,
Dover Shores East
,
Haralson Estates
,
Wadeview Park
,
Richmond Estates
,
Northeast Orlando
,
Lake Fredrica
,
Vista Park
,
Colonialtown South
,
Lake Davis/Greenwood
,
33rd Street Industrial
,
Baldwin Park
,
Mercy Drive
,
Metro West
,
Seaboard Industrial
,
Princeton/Silver Star
,
South Orange
,
Clear Lake
,
Central Business District