We Are Your Go-To Company For Industrial Commercial Roof Services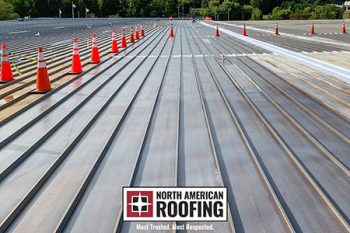 At North American Roofing, we specialize in the installation, repair, and maintenance of commercial and industrial roofing systems. We utilize a wide range of metal roofing materials and products that are designed for energy efficiency, durability, and curb appeal. Our experienced roofers can also install EPDM TPO, PVC, and other reliable systems for your flat roof. When you need a dependable roofing service for your commercial metal or flat roof, we're here to help. Our metal roofing contractor will work with you to choose the best system for your specific needs and budget. Contact us today to learn more about our commercial roofing services.
Give Us A Call For Metal Roofing Installation and Repair Today
Whether you own an office building, warehouse, or any other commercial property, our team is here to provide the roofing service you need. Our professional metal roof installations focus on being energy efficient and help to protect your business from damaging roof leaks. With over 43 years of experience in the roofing industry, you can rest assured that our contractors will utilize the highest quality metal roofing products and equipment to ensure the best possible results.
When it comes to your roof, you want a metal roofing contractor that you can trust. North American Roofing has the experience and expertise to handle any metal roofing repair, no matter the size or scope of the project. We understand that every commercial building is different, and we take the time to assess the type of roofing system in place before beginning any work. This ensures that we use the appropriate materials and techniques for each individual job. Whether you're dealing with leaks, corrosion, or storm damage, we'll work quickly and efficiently to get your roof back in top condition. Contact us today to learn more about our metal roofing repair services.
If You're Looking For Metal Roof Panels We're Here To Help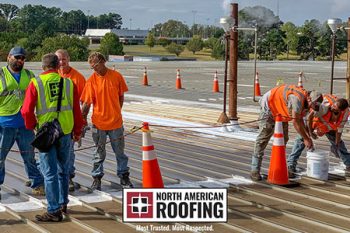 When it comes to commercial roofing, there are a lot of factors to consider. With so many different types of metal roofing available, it can be tough to decide which option is best for your business. That's where our team of professional roofing contractors at North American Roofing comes in. With over 43 years of experience, we're experts in all things roof-related. We'll inspect your roof and help you determine the best course of action, taking into account your budget and the needs of your business.
Metal roofing is an increasingly popular choice for commercial properties. Not only does it have excellent curb appeal, but it is also one of the most durable roofing materials on the market. Metal roofs are available in a variety of colors and styles, making it easy to find an option that complements the look of your business. In addition to its aesthetic appeal, metal roofing also offers superior protection against fire and harsh weather. And because metal reflects heat, it can help to keep your property cooler in the summer months, leading to reduced energy costs. If you're looking for a roof that will provide lasting protection, metal roofing is an excellent choice. For more information about metal roofing options, contact North American Roofing today.
The Search For Metal Roofing Contractors Near Me Is Over
North American Roofing is a leading roofing company that provides business owners in Orlando, FL and across the U.S with dependable metal roofing systems. We have years of experience in the industry and provide the highest quality customer service with fast response times, helpful advice, and answers to all your questions. From metal roofing and flat roofing to durable roof coatings and more, our team does it all. Give us a call today to learn more about our roofing services and ask about our unique StarCare™ maintenance plan!
About Orlando, FL
Being in The Sunshine State, Orlando receives more than its fair share of hot and sunny days throughout the year. Unfortunately, these warm temperatures mean increased electricity bills for business owners. The Office of Energy Efficiency & Renewable Energy states that commercial buildings account for nearly 20% of all the energy used in the United States. And while there are many ways to combat this, one of the most worthwhile methods is to install an energy-efficient roof system. At North American Roofing, we install various types of commercial roofing materials, including TPO, PVC, and more. These high-quality products help reflect sunlight and keep your building cooling in the summer months. Give us a call today to learn more!