Get Commercial Roof Coating & Sealing Today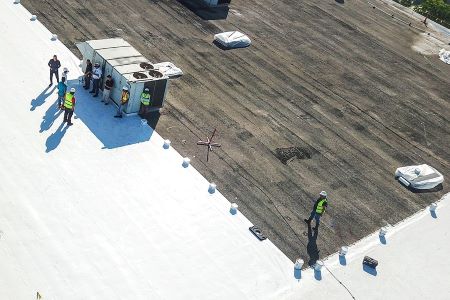 At North American Roofing, we have over four decades of experience repairing and installing all types of roofs for commercial buildings like warehouses, factories, retail facilities, schools, apartments, and more. We understand that commercial flat roofs are subject to a wide range of weather conditions, especially in areas like Central Florida, where hurricanes, high temperatures, and hailstorms are common. While the roofing materials you select can affect your roof's ability to withstand the elements, there are other things you can do to increase its lifespan and provide additional benefits. Our professional contractors can apply flat roof coatings to different roof surfaces that improve energy efficiency and protect your business from leaks. Call North American Roofing today to learn more. 
When You Need An Elastomeric Roof Coating, We're Here To Help
Liquid-applied roof coatings can be used on many different roof types in order to protect them from the elements and extend their lifespan. Cool roof coatings or reflective roof coatings are usually white or light in color, which helps to reflect heat away from the building and reduce energy costs. These coatings are also versatile as they can be applied to various roofing materials for different types of roofs, including metal roof coatings, modified bitumen, single-ply membranes, and built-up (BUR) roofs.
In addition to reducing energy costs, roof coatings can also help to extend the life of commercial buildings by protecting them from UV rays, wind, and rain. And because they are applied as a liquid, they can fill in cracks and gaps that might otherwise lead to leaks. If you're interested in learning more about commercial roof coatings and how they could benefit your business, contact North American Roofing today.
We Install SPF Roofing In Jacksonville
As a business owner, you know that your commercial roof is a significant investment. You also know that it's important to keep your business running smoothly and efficiently. That's why you need a roof sealant that is durable, easy to apply, and will save you money in the long run. North American Roofing's commercial roof coating materials are the perfect solution for your business. Our team can apply an SPF roof coating to your commercial property to help protect it and save you from costly repairs. Our products are energy efficient, easy to maintain, waterproof, and sustainable. Our commercial roofing contractors can help businesses maintain their roofs and extend their lifespan with proper maintenance and scheduled roof inspections, along with addressing any repairs as soon as they arise.
The Search For A Durable Roof Coating Near Me Is Over
Silicone roof coatings are an excellent option for commercial property owners who are looking for affordable waterproofing solutions and alternatives to expensive roof repairs. Our team at North American Roofing is your go-to commercial roof coating contractor in Jacksonville. We have years of experience working on different roofing systems and strive to provide commercial businesses with professional roofing services they can rely on. Give us a call today for roof coatings, roof replacement, and roof repairs!
About Jacksonville, FL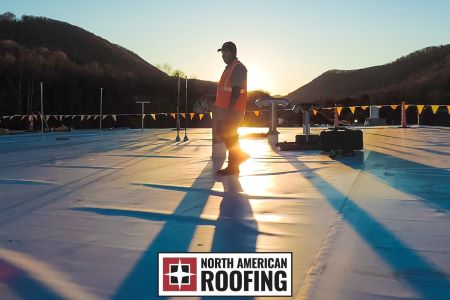 The state of Florida has a subtropical climate and is no stranger to extreme weather events like hurricanes, tornadoes, heavy rain showers, and lightning storms. For business owners, these harsh conditions can spell trouble for your commercial roof in Jacksonville, FL. Just like any investment, your roof needs to be monitored and protected in order for you to achieve a positive ROI. While commercial roofs are typically built to last for many years, regular maintenance can help you avoid expensive repairs and extend the life expectancy of your roof. Business owners can save $.11/ft over the time of their roof's lifespan with routine roof maintenance. Our team at North American Roofing is here to help protect your investment. Give us a call today to learn more!