We Are Your Dependable Roofing Maintenance Company In Asheville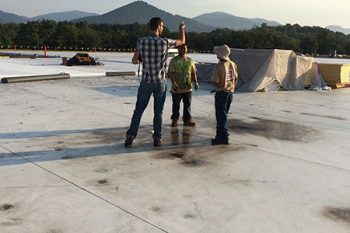 At North American Roofing, we have over 43 years of experience in the roofing industry and provide professional repairs, replacements, and maintenance services for a variety of commercial roofing systems. We have the skill and knowledge to handle even the largest projects for different commercial buildings, including warehouses, factories, medical facilities, and more. Our team is here to provide your commercial roof systems with regular maintenance and quality workmanship to keep them in optimal condition for many years. Our emergency service department is available 24/7/365 when you need commercial roofing repair or replacement for water damage, storm damage, and anything in between. We believe every business owner should have a commercial roofing contractor they can depend on. Call North American Roofing today!
We're Not Like The Other Commercial Roofing Companies
Not every roofing company is equipped to offer the same level of care and available service as our commercial roofing team. While other companies may offer maintenance plans that include free annual inspections and discounted repairs, StarCare™ goes above and beyond. Our preventative maintenance programs provide unlimited calls and priority response for leaky roofs, yearly reports on the current condition of your roof, set pricing for common service items, and discounts for large volume services.
As most property owners know, commercial roofing services can be expensive, but with our StarCare™ maintenance program, we provide one place for all your roofing solutions. Investing in a unique maintenance program like this is an excellent way to protect your property and prevent premature damage and unnecessary commercial roof repair.
Ask About Our Roofing Maintenance Program Today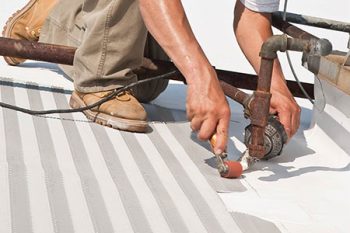 StarCare™ is a commercial roofing maintenance program that helps keep roofs in top condition, minimizing the need for repairs and helping to extend their lifespan. With three different plans to choose from, StareCare™ offers comprehensive coverage for all types of commercial roofs. And because it is provided by a nationwide network of experienced roofing contractors, property owners can rest assured that their roofs are in good hands. Whether you're looking for routine maintenance or emergency repairs, StarCare™ has you covered.
At North American Roofing, our goal is to help commercial property owners eliminate the hassle of calling around to different contractors whenever they need commercial roofing services. With StarCare™ you have one reliable point of contact for all your roof repairs, roof replacements, and maintenance needs. Not to mention our commercial roofing contractors are manufacturer-certified professionals.
The Search For Roof Maintenance Near Me Is Over
At North American Roofing, we are happy to answer any questions you might have about our StarCare™ maintenance program. Our team of experienced contractors has worked on various commercial roofing projects across the country and is ready to help protect your property. Give us a call today for a roof inspection, commercial roof replacement, or emergency repairs.
About Asheville, NC
When it comes to roof storm damage, you might think hurricanes and tornadoes would be at the top of the list but surprisingly hailstorms account for more property damage annually and affect nearly a quarter of the United States. Business owners in Asheville, NC are constantly working with roofing companies to protect their buildings from the damage of these storms. GAF manufacturers durable roofing materials that are tested and proven to withstand different severities of hail damage. At North American Roofing, we strive to provide commercial property owners in Asheville, NC with the highest quality roofing materials, installations, and repairs. Give us a call today to learn more!
Neighborhoods
West Asheville
,
North Asheville
,
East End – Valley Street
,
Montford Area Historic District
,
Downtown
,
Malvern Hills
,
WECAN
,
Burton Street
,
Norwood Park
,
North Asheville Community
,
Morningside Park
,
West Asheville Estates
,
Chestnut Hills
,
Jackson Park
,
Biltmore Village
,
Wilshire Park
,
Saint Dunstan's
,
Kenilworth
,
South French Broad
,
Haw Creek
,
Falconhurst
,
Albemarle Park
,
Kenilworth Forest
,
River Arts District
,
Albemarle
,
Grove Park- Sunset
,
Lakeview Park
,
Biltmore Park
,
Redwood Forest
,
Echo Hills
,
Deaverview
,
Ballentree
,
Sayles Village
,
Oak Forest
,
Pisgah View
,
East View Association
,
Kenilworth
,
Montford Hills