The Safest Choice
North American Roofing's industry-leading safety and quality records are amongst the best in the industry. Superior OSHA certification, a company-wide program, three stage inspections, and job specific safety plans make North American Roofing the safest choice in commercial and industrial roofing.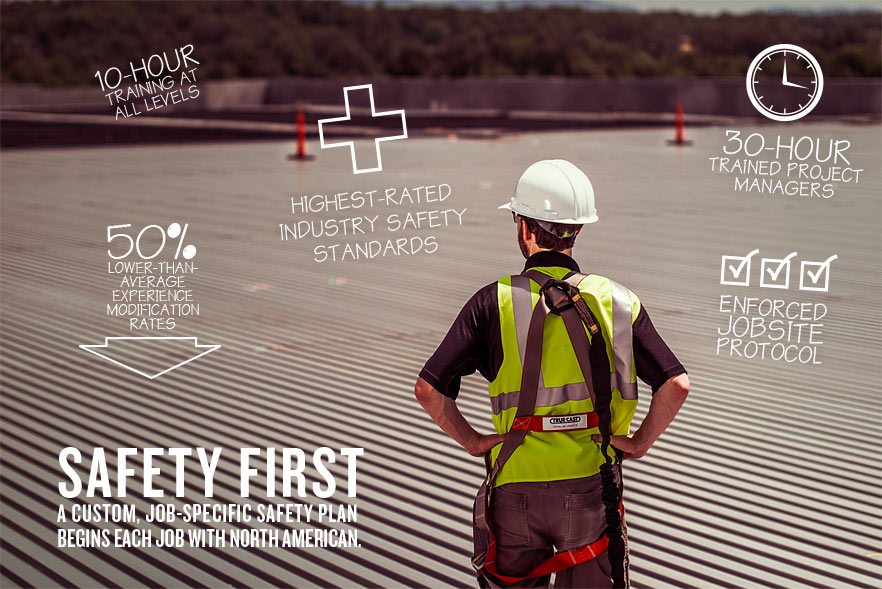 We Take Rooftop Safety Seriously
Enforced Jobsite Procedures:
North American Roofing Safety Toolbox
Company-wide safety protocols
Daily in-house independent inspections
Third party inspections at completion
Client specific custom safety plan availability
Program measurement and analysis
Superior OSHA-Approved Curriculum
10- and 30-hour Construction Outreach Training Programs
All roofing crews receive OSHA Construction Industry Outreach Training
We 10-hour train at all levels—from the installer to the project manager (other companies often train supervisors only)
Safety First by the Numbers
Average modified is 1.0; ours has been consistently lower than average—nearly 50 percent lower.
Consistent process improvements have led to a steady decline in incidents since 2000.
Bureau of Labor Statistics Incident Reports show consistently lower rates than the national average.
We now lead the industry in commercial and industrial roof safety.
1999–2016 Experience Modification Rates