We Are Your Go-To Roofing Contractor In Asheville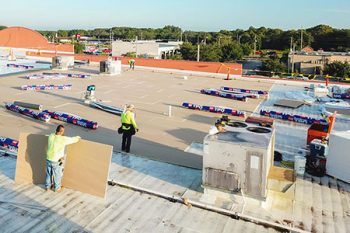 If you are a business owner in need of commercial roofing services, don't hesitate to give us a call. Our team specializes in emergency roof repair, roof installation, and commercial roof maintenance for flat roofs, including single-ply roofing like TPO, EPDM, and PVC. Our team can handle all manner of commercial roofing projects, from large industrial warehouses and manufacturing facilities to retail stores and more. We strive to give our clients peace of mind knowing that their roof is in good hands with North American Roofing's experienced and professional roofers. Give us a call today!
For Professional Roof Installation Give Us A Call
At North American Roofing, we are a commercial roofing contractor with over 43 years of experience, and we take pride in our workmanship. Our team is highly trained and has a thorough knowledge of the various commercial roofing installation materials like TPO, EPDM, PVC and modified bitumen. During our installation process, we take special care to pay attention to even the smallest details to ensure your property is protected for years to come. If you need commercial roofing services, don't hesitate to give us a call.
Your roof is one of the most important investments you will make for your business. A properly installed commercial roof system can last for decades, protecting your property and providing a comfortable work environment for your employees. However, commercial roofing systems are subject to wear and tear over time, and occasional repairs may be necessary to keep them in top condition. That's where North American Roofing comes in. Our team has experience installing and repairing various roofing materials for flat roofs. We work with the utmost attention to detail to ensure that your commercial roof repair protects your property from structural damage, boosts energy efficiency, and provides your business with a professional appearance.
When You Need A Roof Replacement We're Here To Help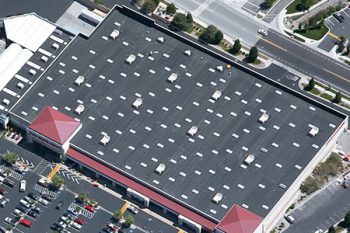 There are many reasons why you might need a roof replacement. Strong winds from storms, falling trees, or a severe roof leak that lead to water damage can all cause irreparable devastation to your roof. At North American Roofing, we provide comprehensive roof inspections to assess the damage and determine if a commercial roof replacement is necessary. Our team will walk you through all of your options for different roofing systems and help you decide on the best solution for your property. We have years of experience in the roofing industry and have provided new roofs and emergency roof repairs for many warehouses, industrial complexes, and other commercial buildings in Asheville, FL and across the U.S. If your current roof has been damaged by a storm or is beyond its expiration date, don't hesitate to reach out to our commercial roofing team today!
Common Commercial Roof Installation Questions
What types of commercial roofs are available for installation?
There are several types of commercial roofs available, including built-up roofs, single-ply roofs (such as TPO or PVC), modified bitumen roofs, and metal roofs. The best option for your building will depend on factors such as your budget, the climate in your area, and the type of building you have.
How long does a commercial roof installation take?
The timeline for a commercial roof installation can vary depending on the size and complexity of the project. However, a typical installation can take anywhere from a few days to a few weeks. Factors that can affect the timeline include weather conditions, the type of roof being installed, and any necessary repairs or preparations that need to be made before the installation.
What kind of maintenance is required for a commercial roof after installation?
Regular maintenance is crucial to extend the lifespan of a commercial roof. This can include cleaning debris off the roof, inspecting and repairing any damage or leaks, and ensuring proper drainage. It's also important to have a professional inspect the roof regularly to identify any potential issues before they become major problems.
How much does a commercial roof installation cost?
The cost of a commercial roof installation can vary depending on a number of factors, such as the size and type of roof, the materials used, and the complexity of the installation. It's best to get a detailed quote from a reputable roofing contractor to get a more accurate idea of the cost.
How do I choose a reliable commercial roofing contractor?
Choosing a reliable and experienced roofing contractor is important to ensure a quality installation and long-lasting roof. Look for contractors with a proven track record of successful commercial roof installations, proper licensing and insurance, and positive customer reviews.
The Search For Roof Repair Near Me Is Over
At North American Roofing, we understand that commercial property owners need a durable roof that they can depend on. Our team is here to provide you with the complete roof services you need, from commercial roofing repair to complete replacements and maintenance. We work with industry-leading manufacturers like GAF, Firestone, Carlisle SynTec, and more. Our exceptional customer service is second to none. When you're looking for an experienced team to repair, install or replace your commercial roof, don't hesitate to give us a call!
About Asheville, NC
When it comes to roof storm damage, you might think hurricanes and tornadoes would be at the top of the list but surprisingly hailstorms account for more property damage annually and affect nearly a quarter of the United States. Business owners in Asheville, NC are constantly working with roofing companies to protect their buildings from the damage of these storms. GAF manufacturers durable roofing materials that are tested and proven to withstand different severities of hail damage. At North American Roofing, we strive to provide commercial property owners in Asheville, NC with the highest quality roofing materials, installations, and repairs. Give us a call today to learn more!
Neighborhoods
West Asheville
,
North Asheville
,
East End – Valley Street
,
Montford Area Historic District
,
Downtown
,
Malvern Hills
,
WECAN
,
Burton Street
,
Norwood Park
,
North Asheville Community
,
Morningside Park
,
West Asheville Estates
,
Chestnut Hills
,
Jackson Park
,
Biltmore Village
,
Wilshire Park
,
Saint Dunstan's
,
Kenilworth
,
South French Broad
,
Haw Creek
,
Falconhurst
,
Albemarle Park
,
Kenilworth Forest
,
River Arts District
,
Albemarle
,
Grove Park- Sunset
,
Lakeview Park
,
Biltmore Park
,
Redwood Forest
,
Echo Hills
,
Deaverview
,
Ballentree
,
Sayles Village
,
Oak Forest
,
Pisgah View
,
East View Association
,
Kenilworth
,
Montford Hills