Protect Your Roof's Integrity Quickly & Cost-Effectively
What if you could protect your low-slope roof with a durable coating that would extend its useful life while reducing energy costs?
Good news—you can. Elastomeric roof coatings install over metal, modified bitumen, single-ply membrane, and built-up roof (BUR) systems. For many building owners, these coatings are an affordable way to protect the integrity of their low-slope roofs.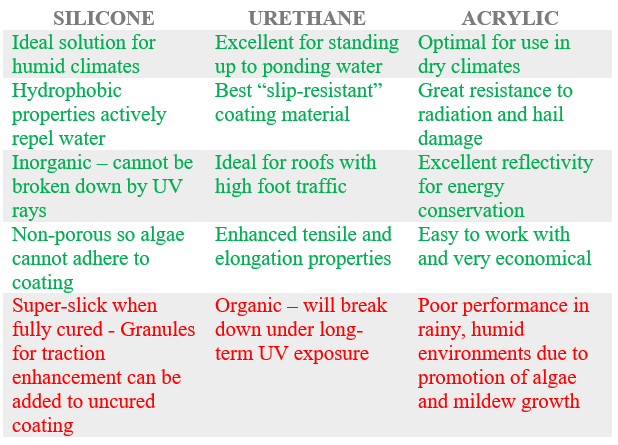 Elastomeric Coating Benefits
Roof Protection: Elastomeric coatings seal the roof surface, protecting it from rain and wind damage. The elastomers resist deterioration from dirt and dust accumulation.
Energy Efficiency: White is the most common color for elastomeric roof coating because it reduces thermal transfer by reflecting searing-hot sunrays away from the roof. This cool roof reflectivity lets your HVAC unit run less, saving you on utility bills and prolonging the life of the units.
Coating Cost: Elastomeric coatings cost substantially less than replacing the roof entirely. Budget-conscious facility owners can save money while extending the life of their roof 5 to 10 years or more.
Quick Installation: Elastomeric coatings go on quickly, meaning we won't be hanging around your facility for weeks on end. We're in. We're out. You're set.
LEED Credits: Cool roofs that contain elastomers can help meet LEED, Energy Star and other energy code requirements. In addition, a cool roof reduces Urban Heat Island Effect so your community will benefit as well.
Structural Benefits: Elastomeric roof coatings do not add dead weight to the roof, so there is no detrimental effect to your building's structure.
The rubber-like components of elastomeric coatings expand when warmed by the summer sun and they return to their original state as they cool down after sunset. This intrinsic "memory" reduces the risk of hardening and cracking, so your roof lasts longer.
Because these coatings reduce energy costs, you might qualify for a business tax incentive. Talk to your accountant to find out if installing elastomeric roof coating qualifies you for an energy rebate. Tax incentives further reduce the facility owner's expense, making elastomeric coating even more economical.
The demand for reflective roof coatings is surging, and North American Roofing is a leader in cool roof technology. We work with all the top roof-coating manufacturers, and we're committed to helping our customers get the best roof protection possible for their investment dollar.
Call us today at 800.551.5602 to find out if your building could benefit from the installation of elastomeric roof coating.