Give Us A Call For Flat Roofing Installation Today
At North American Roofing, we specialize in various types of roofs for commercial property owners throughout the Atlanta area. For over 43 years, our team has provided professional flat roof replacement and repair services with a focus on quality workmanship and exceptional customer service. When you need a roofing contractor with the skills to install and repair any type of roof material for flat roofing systems, don't hesitate to give us a call. We understand that each roof is unique and faces its own set of challenges. Our team is trained to deliver commercial roofing solutions that meet the specific needs of each customer. Whether you are looking for flat roof installation services or a professional roof inspection, North American Roofing is here to help.
We Provide The Flat Roofing Services You Can Depend On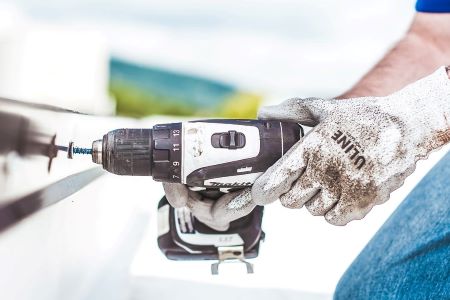 When it comes to commercial roofing, flat roof systems are one of the most versatile and durable options available. At North American Roofing, we work with and install a wide range of flat roofing materials, including TPO, PVC, EPDM, and modified bitumen. So you can be sure you're getting the best possible roof for your needs. Our team will help evaluate your needs and help you make an informed decision about the best flat roofing option for your commercial building.
If you're looking for a flat roofing service that you can depend on, give us a call to learn more about installing a single-ply roofing membrane. Made from polyvinyl chloride, thermoplastic polyolefin, or ethylene propylene diene monomer, a single-layer membrane roof utilizes flexible sheets to cover and protect your entire roof. Our flat roof installation services will ensure that your property is sheltered from the rain, wind, snow, and sun for many years.
Flat Roof Materials
At North American Roofing, we provide a wide range of quality materials for you to choose from. Our team of experienced roofing contractors will walk you through all of the flat roof options available to you and help you determine the best fit for your property. There are many factors to consider when selecting your material, including durability, curb appeal, energy efficiency, and more. No matter what your budget or needs are, we have a roofing solution that's right for you.
Our roofing company can provide your facility with an environmentally-conscious roofing choice like EPDM. Not only does this synthetic rubber elastomer provide superior strength and flexibility, but its impervious surface doesn't pollute water runoff. Additionally, we can install black EPDM commercial roofing systems in areas with cooler climates to help reduce the heating costs for your facility.
Modified bitumen roofing systems have been a popular choice among commercial property owners for many years. This type of roofing is extremely durable and can withstand a high amount of traffic. Modified bitumen roofing is thicker than a built-up roof system and can therefore provide greater protection for your facility.
Elastomeric roof coatings are a versatile and affordable option for protecting low-slope roofs. These coatings can be applied to metal, modified bitumen, single-ply membrane, and built-up roof (BUR) systems, providing an extra layer of defense against the elements. In addition to extending the life of your roof, elastomeric coatings can also help to reduce energy costs by reflecting sunlight and keeping your building cooler in the summer months. If you're interested in learning more about this type of roof coating, contact North American Roofing today.
The Search For Flat Roof Installation Near Me Is Over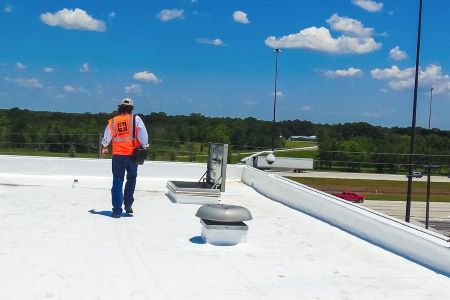 North American Roofing is committed to providing our customers with the best possible roofing solutions. Our team of experienced professionals offers a wide range of services, from flat roofing and emergency repairs to maintenance and more. When you choose North American Roofing, you can rest assured that you're making the best possible decision for your roof. Our StarCare™ program offers a variety of benefits that are designed to help extend the life of your roof and maximize your investment. With three distinct plans to choose from, you can find the perfect coverage for your needs. Contact us today to learn more about how we can help you care for your roof.
About Atlanta, GA
The state of Florida has a subtropical climate and is no stranger to extreme weather events like hurricanes, tornadoes, heavy rain showers, and lightning storms. For business owners, these harsh conditions can spell trouble for your commercial roof in Atlanta, GA. Just like any investment, your roof needs to be monitored and protected in order for you to achieve a positive ROI. While commercial roofs are typically built to last for many years, regular maintenance can help you avoid expensive repairs and extend the life expectancy of your roof. Business owners can save $.11/ft over the time of their roof's lifespan with routine roof maintenance. Our team at North American Roofing is here to help protect your investment. Give us a call today to learn more!