For Flat Roof Repair Near Me Give Us A Call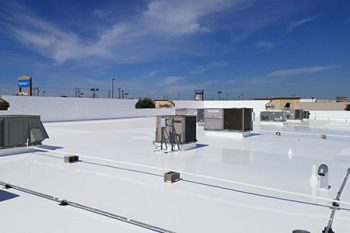 At North American Roofing, we have been providing dependable commercial roofing services since 1979. We specialize in flat roofing systems for just about every type of commercial property throughout the Tampa Bay area and across the U.S. No matter what kind of problem you have; we have a roofing contractor ready to help. With decades of experience in the commercial roofing business, we are familiar with all the common roofing issues that can occur with flat roofs. From a roof leak to ponding water and blistering, we'll be able to identify the source and provide an effective solution quickly. In addition to repairs, we also offer flat roof replacement and installation services. Property owners can rely on our roofing company to protect their investment. Give us a call today.
Metal Flat Roofs
Metal roofing is becoming an increasingly popular choice for property owners due to its durability and long lifespan. However, like all other roofing materials, a metal roof can develop damage over time, such as a roof leak. Metal roof coatings are an effective and often easy way to fix these problems. A roofing contractor can apply a coating for durability, leak repair, and to help reduce cooling costs and improve energy efficiency. In many cases, metal roof coatings are the most cost-effective way to fix these common problems. If you are having issues with the metal roof on your commercial building, be sure to consult with a professional roofing company to discuss your options.
PVC Roofing
As a roofing contractor, we are constantly working with our clients to help them find the best flat roofing material for their property. Thermoplastic polyvinyl chloride or PVC roofing membranes offer a wide range of benefits that make them an attractive option for business owners. From a monetary standpoint, this single-ply roof option is a cost-effective and long-term solution for various types of roofs. PVC is also environmentally friendly, as it is made from recyclable flat roof materials. Additionally, PVC roofing membranes are incredibly durable and easy to maintain. Contact North American Roofing to learn more about our flat roof services and how we can help you choose the best roofing material for your needs.
TPO Roofing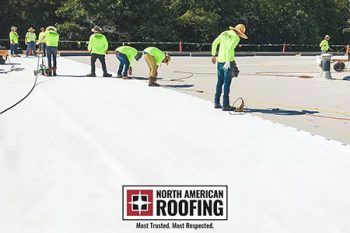 When it comes to roofing systems for commercial buildings, TPO or thermoplastic polyolefin roofing is one of the most popular options on the market. This durable roofing material offers a wide variety of benefits, including flexibility, versatility, and high performance, making it ideal for numerous applications. In addition, TPO roofing is environmentally friendly and can help keep your building cooler in the summer months. North American Roofing will help you make an informed decision about whether or not TPO roofing is the right choice for you based on your specific needs and budget. We only use quality materials so you can be sure that your new roof will serve you well for years to come. If you're looking for a roofing contractor to provide you with a roof estimate and exceptional customer service, don't hesitate to give us a call.
The Search For Flat Roof Contractors Near Me Is Over
North American Roofing has over 43 years of experience in the roofing industry. We specialize in flat roof installation and repair, and our roofing team is ready for any project that comes our way. If you are experiencing leaks from your flat roof, give us a call. We will send an experienced roofing contractor to assess the situation and provide you with an accurate roof estimate. We're equipped with the latest tools and technology to ensure a successful roofing project. Hiring a professional roofing team like North American Roofing will ensure that the job is done right the first time. Don't forget to ask about our unique StarCare™ maintenance plan, where you can get national roofing coverage, unlimited calls for leaks, annual roof reports, and so much more!
About Tampa, FL
The state of Florida has a subtropical climate and is no stranger to extreme weather events like hurricanes, tornadoes, heavy rain showers, and lightning storms. For business owners, these harsh conditions can spell trouble for your commercial roof in Tampa, FL. Just like any investment, your roof needs to be monitored and protected in order for you to achieve a positive ROI. While commercial roofs are typically built to last for many years, regular maintenance can help you avoid expensive repairs and extend the life expectancy of your roof. Business owners can save $.11/ft over the time of their roof's lifespan with routine roof maintenance. Our team at North American Roofing is here to help protect your investment. Give us a call today to learn more!