We Are Your Go-To Flat Roof Replacement Contractors In Mobile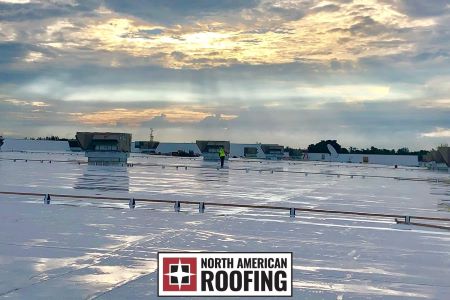 At North American Roofing, we strive to provide business owners in the Mobile area and across the U.S. with dependable commercial roofing services. We have over 43 years of experience repairing and replacing flat roofs that ensure energy efficiency, curb appeal, and durability. No matter what kind of commercial building you have, our roofing company has the skill and knowledge to handle any type of roofing issue.
Whether your roof has been damaged by wind, hail, or fallen debris, we can provide the repair or replacement services needed to restore it to its original condition. We use high-quality flat roofing materials and take great care to ensure that our customers are completely satisfied with our work. If you are interested in learning more about our commercial roofing services, give us a call today and speak with an experienced roofing contractor.
Give Us A Call For Flat Roof Repair and Replacement Today
North American Roofing is a flat roof specialist that offers a wide range of flat roof options and flat roof replacement services to property owners. We understand that deciding whether to repair or replace your roof can be a difficult decision, and we are here to help. There are a few factors that you should consider when making your decision, including the age of your roof, your current energy bills, leaks, and visible damage. Our experienced contractors will perform a thorough inspection of your roof and help you determine whether repairs or a full replacement is the best option for you. If a complete replacement is necessary, we offer a variety of options for flat roofing systems that are sure to meet your needs and budget.
Like all other types of roofs, flat roofs require periodic repair and maintenance in order to remain in good condition. A roofing contractor can assess the damage and recommend the best course of action. If the roof can be repaired, they will know which roofing materials to use. PVC, EPDM, and TPO are all durable materials that can withstand a lot of wear and tear. These materials are also relatively inexpensive, so you won't have to break the bank to fix your roof. Call North American Roofing today for an estimate!
When You Need Durable Flat Roof Systems, We're Here To Help
Flat roofs have long been valued for the flexibility they provide in terms of design and various options. However, just the sheer number of flat roof materials available can make a business owner's decision that much more difficult. Choosing the wrong type of roof for your property and specific needs can lead to costly repairs down the road. Our team at North American Roofing is here to help make your decision easier. We'll provide you with all the information you need to make an informed decision about which system is right for you, and we'll handle the flat roof installation process from start to finish. Contact us today to get started. Some of the common types of roof options include:
Modified Bitumen Roofs
Single-Ply Roof
EPDM Rubber Roof
TPO (Thermoplastic Polyolefin) Roof
PVC (Polyvinyl Chloride) Roof
At North American Roofing, no roofing project is too big for us to handle. We focus on quality workmanship and exceptional customer service. We understand that commercial property owners have a big decision when deciding on their flat roofing material. Whether you want to install a single-ply roofing membrane on your low-sloped roof or have us apply durable flat roof coatings on your existing roof, we're here to help. Give us a call for a professional roof inspection today and get a long-lasting flat roof for your commercial property.
The Search For Flat Roof Replacement Near Me Is Over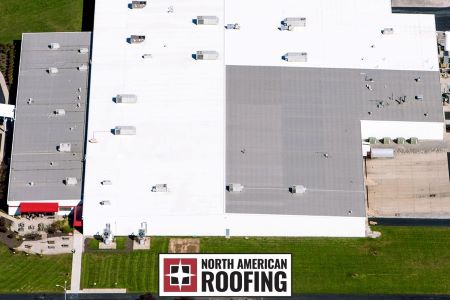 A roof leak can spell serious trouble for any business owner and, when left unchecked, can lead to thousands of dollars worth of expensive repairs. Working with a reliable roofing company can help protect your property from these roofing issues. We provide a wide variety of roofing services to business owners in Mobile and throughout the United States. When you need a replacement, don't hesitate to contact an experienced roofing contractor at North American Roofing. Give us a call today for emergency roof repairs and dependable roof replacements. And don't forget to ask about our StarCare™ Maintenance Program!
About Mobile, AL
The state of Florida has a subtropical climate and is no stranger to extreme weather events like hurricanes, tornadoes, heavy rain showers, and lightning storms. For business owners, these harsh conditions can spell trouble for your commercial roof in Mobile, AL. Just like any investment, your roof needs to be monitored and protected in order for you to achieve a positive ROI. While commercial roofs are typically built to last for many years, regular maintenance can help you avoid expensive repairs and extend the life expectancy of your roof. Business owners can save $.11/ft over the time of their roof's lifespan with routine roof maintenance. Our team at North American Roofing is here to help protect your investment. Give us a call today to learn more!