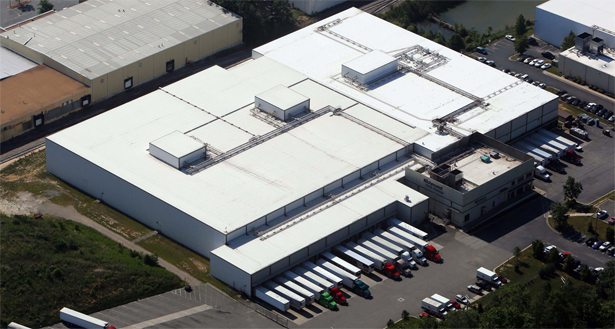 Lineage Logistics
Sandston, VA l 8/16/2013
35,046 sq. ft. l 60-mil PVC 
After 20 years, the ballasted EPDM roof on the Lineage Logistics cold storage facility in Sandston, VA was failing. Poor drainage slope resulted in ponding areas of water, and a breached vapor seal allowed moisture to permeate parts of the roof and damage the thick insulation layer beneath. Because the facility's main purpose is to safely store perishable food products, utility costs increased as freezer units worked overtime to maintain safe storage temperatures. Unwanted vapor leaks led to ice crystal formation inside the freezer areas of the facility.
PROJECT SCOPE
Portions of the roof's thick insulation layer were still in good shape, but in areas where the vapor seal failed, insulation was slated for replacement. PVC membrane was selected for its durability, puncture resistance, optimal reflectivity, and cool roof energy performance. Lineage Logistics chose North American Roofing to install the new roofing system based on our extensive experience with cold storage roofs and because we'd completed a successful re-roofing project for them in the past.
TIMELINE
Operations at Lineage Logistics would continue during the re-roofing process, so the goal was to remove the old roof, replace compromised insulation, make grade adjustments, and install the new PVC membrane without disrupting day-to-day operations. Once we started, Lineage Logistics had a new roof in just 4 weeks.
ROOF REMOVAL: Special vacuums were used to remove the existing ballast, after which the EPDM membrane was rolled back to expose the thick underlying insulation. Some of the EPDM membrane was retained; the rest, along with the ballasted stone, was hauled away and recycled.
INSULATION: The salvageable portion of the existing isocyanurate (ISO) insulation layer was mechanically attached. Damaged insulation was replaced with new ISO and we used tapered cricket insulation to alleviate low spots and correct roof grade. The remaining EPDM membrane was rolled back into place over the repaired insulation and re-installed in a watertight fashion.
PVC MEMBRANE INSTALLATION: North American Roofing crews mechanically attached 60-mil Sika Sarnafil PVC membrane in compliance with the manufacturer's specifications.
VAPOR SEAL: Emphasis was on repairing the facility's vapor seal. This involved sealing the underside of the new membrane at the roof's edge with water block mastic and installing compression bars over the membrane where applicable. Additional vapor seal provisions were made by running TPO membrane on vertical wall surfaces, secured with aluminum termination bars. Engineered metal wall panels were prepped with CDX plywood to give vertical walls an optimal surface for membrane attachment. Additional precautions were taken along transition and termination areas to ensure an impermeable vapor seal.
PROJECT ANALYSIS
The Lineage Logistics project was successful because North American Roofing recognized the importance of an impenetrable vapor barrier for effective cold storage. Once the new roofing system was in place, operation of the facility's large evaporative chillers was immediately reduced to 70% of their pre-roofing operational level, helping Lineage Logistics realize immediate energy savings.