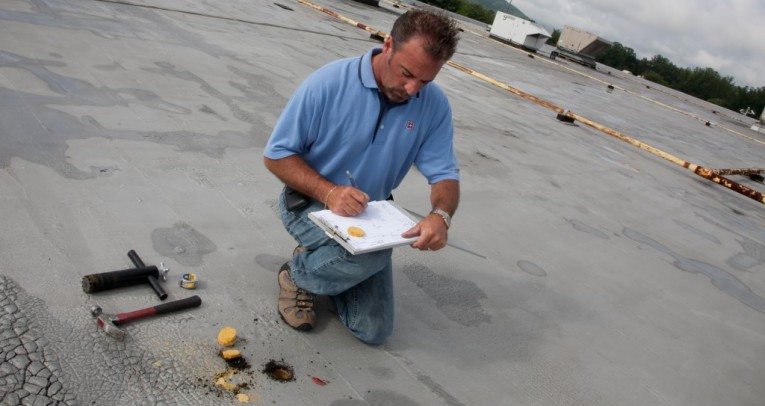 Autumn is here! In some parts of the country, leaves are turning vivid red and gold — and many of us have already experienced an early cold snap. Meteorologists predict the upcoming winter to be harsher than average so don't miss this "window of opportunity" to get your roof ready for winter.
In addition to being one of your building's most valuable assets, the roof is also one of the most vulnerable. Commercial roofs have a formidable job. They must protect the building's interior, tenants, equipment, inventory, production workers and serve dozens of other vital purposes while being exposed to the elements 365 days a year. Winter is the harshest season for roofs if they're not properly prepared for the coming cold.
Benefits of a Fall Roof Inspection
Everything runs smoother when the roof is in great shape. A professional roof inspection ensures continued efficiency and extends the optimum life of the roof. Most facility managers understand the importance of discovering small roof leaks and repairing them before they can expand and wreak havoc on the entire building, but a fall inspection has additional benefits you might not have considered.
A qualified roofing inspection team will:
Pinpoint areas that are weathering prematurely
Discover damage caused by rooftop unit installers/repairmen
Evaluate the need for roof cleaning and debris removal
Locate previous storm damage caused by hail, blown debris or wind uplift
Conduct a thorough leak assessment
Discover drainage problems
Identify security risks, such as unlocked access hatches
Determine the need for warranty repairs and maintenance
What Happens During the Fall Inspection?
Before the inspection team arrives, it's a good idea to gather your documents detailing the age of the roof, previous repairs and warranty documents. Tell the inspector if rooftop units have been installed since the last inspection. The inspector will review all the relative information and then begin the physical inspection.
The physical inspection starts with a review of the roof's surface, noting areas that indicate previous water ponding and surface deterioration. The inspector will create a new record of all issues he finds, such as shaling ballast, the amount of dirt and debris, membrane condition and the integrity of the sealant around penetrations, coping joints and ends and around all other rooftop units, projections or skylights.
He'll observe and evaluate the condition of the seal between the walls and the roofline, which is a particular weak spot where leaks frequently develop. In addition, he'll examine parapets, flashing, gutters, scuppers and strainers. For your protection, no part of the roof is overlooked.
What Happens After My Inspection?
The inspector gathered a lot of data and now it's time to analyze it and decide the best course of action. If your roof is in good-to-excellent shape, cleaning, debris removal and regular maintenance should be all that's required to protect your facility from the coming winter.
If the roof needs additional repairs or restoration work, this is a good time to schedule them. In extreme cases, when restoring an old roof is no longer feasible, it might be time to think about a replacement. A North American Roofing professional will explain your options and help you make an informed decision that meets your budget and goals.
We can't guarantee that your roof will receive a glowing inspection report, but we can guarantee that by having semi-annual inspections and performing regular repairs and maintenance, you can extend the useful life of your roof by up to 25%. Call us today at (800) 551-5602 to schedule your fall roof inspection and to find out how North American Roofing can protect your roof and save you money!