PVC roof maintenance is paramount in extending the lifespan of commercial roofing and preventing any problems along the way. While PVC roofs are especially low-maintenance, it's always wise to check on them regularly, as no building material lasts forever. Ensuring that your PVC roofing is regularly maintained can be the difference between a small inconvenience and major repairs that could potentially force you out of business due to major roof repair needs.
What is PVC Roofing?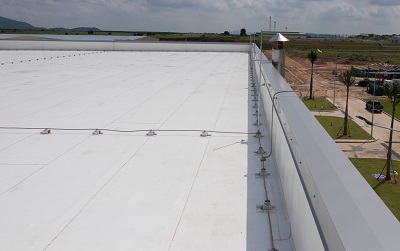 PVC roofing, which are durable roof systems, also known as vinyl roofing, is a type of single-ply roofing membrane that is made from polyvinyl chloride (PVC). It is a popular roofing option for commercial buildings because it is durable, lightweight, and easy to install. PVC roofing membranes are typically produced in large sheets rolled onto the roof and attached with mechanical fasteners, adhesives, or ballast. The seams between the sheets are then welded together with heat to create a continuous, waterproof membrane.
PVC is resistant to damage from weather, chemicals, and UV radiation. It is also low-maintenance and has a long lifespan, typically lasting 20-30 years or more with proper installation and maintenance. This type of roofing is also energy-efficient, as it reflects the sun's heat and can help reduce cooling costs in warmer climates.
PVC Is Pretty Low Maintenance
PVC might be the right choice if you're looking for a roofing material that doesn't require expensive maintenance and repairs to keep it in good condition. Not only is a PVC roof lightweight, but no additional coatings or repairs are required to maintain it. All it needs is an annual cleaning to eliminate algae and other organic materials like leaves, needles, and small branches.
Regularly Clean Your PVC Roof
It is best to hire a professional because they have the proper safety equipment, such as a safety harness, non-slip shoes, and safety goggles. Professionals will rinse the roof surface with a pressure washer to remove any loose dirt or debris. They will also use the best cleaning solutions for your PVC roof. While they are up there, they can inspect your roof to see if there are any repairs or other maintenance needs your roof needs.
Repair Leaks and Noticeable Damages Immediately
Taking care of your PVC roof is crucial to maintain its incredible longevity and performance. Regularly inspecting the roof for damage, debris and dirt buildup can help prevent costly repairs. If you notice a leak or any noticeable damage, repairing them immediately can help improve your roof's condition and add years to your PVC roof's life.
Clear Large Amounts of Debris
Keeping your roof clear of any particles from leaves, branches and other debris is essential to commercial maintenance. Taking the time to periodically check your roof for any accumulations is a great way to proactively protect the integrity of your roof and gutter system. This can help to prevent blockages in your gutters and help ensure proper drainage. Small investments like this go a long way in preserving the long-term value and safety of your commercial property, so give it some attention.
Clean Gutters Regularly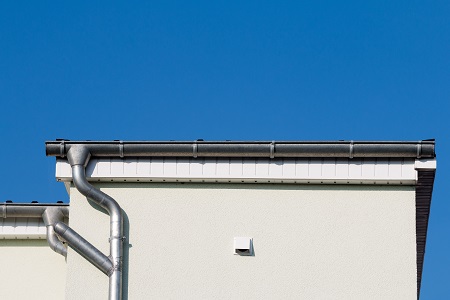 Proper gutter maintenance can help alleviate water-related roof damage, saving both time and money from costly repairs. Keeping gutters clear of any debris allows for an even flow of rainwater that can be safely diverted away from your roof, protecting it from potential damage that occurs when water runs over the edge. Taking the time to clean your gutters can pay off in big ways by preventing larger problems down the line.
Schedule Regular Inspections with a Professional
Regular inspections of your roof are a great way to prevent costly repairs or replacements down the line. During routine maintenance, expert eyes can pinpoint any damage that could leave your roof susceptible to water leakage and consequential harm to the decking or insulation within the roof. Particular attention is paid to areas where water commonly seeps through, including wall terminations, roof drains, and flexible piping entry points – these are known as flashings. When done regularly, these inspections will allow you peace of mind knowing that the integrity of your roof is protected.
Call North American Roofing for Regular PVC Roof Maintenance, Repairs, and Installations
At North American Roofing, we've been the preferred commercial roofing company for over 43 years. Our commercial roofing contractors are highly-skilled professionals who work closely with businesses of all sizes to provide quality PVC roof repairs, installations, and maintenance services. When you choose our PVC roof maintenance service, you can also opt into our comprehensive StarCare™ maintenance plan to ensure your roofs stay in peak condition. Our team of professionals will take the time to go through all your options with you – all you have to do is give us a call today! Our commercial roofing specialists service Jacksonville and the surrounding Northeast Florida region.
The commercial roofing services we provide:
Emergency roof repairs to roof leaks
Metal roof installations and repairs and low-slope roofs like EPDM roof systems, TPO roofing systems, PVC roof systems
Commercial roof installation
Commercial roof maintenance
Commercial roof repair
Commercial roof replacement
Elastomeric roof coating
Flat roof replacement and repair
And more!
Why choose North American Roofing:
StarCare™ maintenance plan
24/7 coverage and fast response times for emergency roof repair
98% customer retention
OSHA Certified Field & Management
We are trained and certified to install every major roofing system available
Guaranteed excellent customer experiences
Visit our About Us page for more information about our company!