You've decided it's time for a new roof, but you don't know where to start. There are a lot of roofing companies to choose from, and it can be hard to know which one is the right fit for your commercial property. 
Follow these tips for choosing the right commercial roofing company and you'll be able to find the perfect company for your needs.
LICENSE AND INSURANCE
When choosing a commercial roofing company, it's important to choose one that is licensed and insured. This will ensure that the company is legitimate and that you will be protected in the event of any damage or accidents. The roofing industry is a regulated industry, and roofing companies must adhere to strict safety standards. In addition, they should be insured in order to protect themselves and their customers from any potential liabilities. So, when choosing a commercial roofing company, be sure to ask about their licensing and insurance status. By doing your research, you can be sure that you are choosing a company that is reputable and reliable.
EXPERIENCE
When it comes to commercial roofing, experience is everything. After all, commercial roofing systems are more complex than residential roofing systems, and they require a higher level of expertise to install and repair. That's why it's so important to choose a roofing company that has significant experience in the industry. Look for a company that has been in business for several years and that has a proven track record of success. With so much at stake, you want to make sure you're working with a team that knows what they're doing.
REFERENCES AND REVIEWS
When you're considering hiring a company to provide a service, it's always a good idea to do your research and read reviews from past customers. This way, you can get an idea of the quality of work the company provides and whether or not they're likely to meet your needs. References can also be a helpful way to learn more about a company. If you know someone who has used the company's services before, ask them for their opinion on the quality of work. By taking the time to read reviews and talk to references, you can make sure you're hiring a company that will provide the high-quality work you expect.
WARRANTIES AND MAINTENANCE PLANS
Warranties and maintenance plans are important factors to consider when deciding which company should handle your roofing project. Not all companies provide the same coverage or service plans, so it's important to do your research and ask the correct questions before making your final decision. 
Warranties
When considering a roof replacement, always be sure to ask your roofing contractor about any warranties they might offer, as not all companies provide the same guarantees. There are usually 2 types of warranties: manufacturer warranties, which cover roofing materials up to a certain amount of time, and workmanship warranties, which is a type of guarantee that offers protection for defects in workmanship. Before deciding which company to go with, you want to be sure you're comfortable with the warranties they provide before signing any contracts.
Maintenance Plans
A maintenance plan is an important consideration when choosing a roofing contractor. A good maintenance plan will protect your investment and help to extend the life of your roof. A typical maintenance plan will include periodic inspections, cleaning, and repairs as needed. This will help to identify any potential problems before they cause serious damage. So, when considering a roofing contractor, be sure to ask about their maintenance plans. This will ensure that your roof is well-cared for and will last for many years to come.
FEES AND COSTS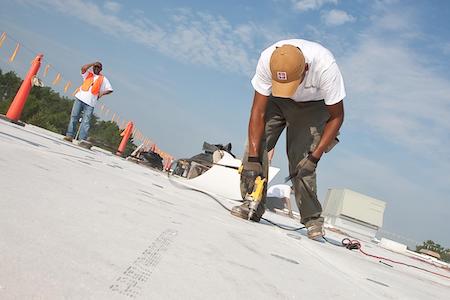 When choosing a roofing company, it is important to research their fees and costs. Make sure to ask for an estimate before hiring a roofing contractor, as prices can vary depending on the size and scope of the project. It is also important to inquire about any hidden fees or surcharges, as these can add up quickly. Be sure to get all pricing in writing before work begins, so there are no surprises down the road. By taking the time to do your homework, you can be sure to find a roofing company that meets your needs and budget.
YOUR LOCAL COMMERCIAL ROOFING CONTRACTORS
Since 1979, North American Roofing has been committed to providing the highest quality commercial and industrial roofing services. We believe that a strong relationship is the foundation of any successful project, and we work hard to build trust with our clients from the start. Our team of experienced engineers provides expert advice and guidance to help you make the best decisions for your roof. And our commitment to customer service means that we will be there for you every step of the way, from initial consultation to final inspection. When you choose North American Roofing, you can be confident that you are working with a commercial roofing team that is dedicated to your success.
Services we offer include but are not limited to the following:
Flat Roof Repair
Flat Roof Replacement
Commercial Flat Roof Installation
Commercial Roofing Installation
Roof Coating
Commercial Roof Maintenance
Commercial Roofing Repair
Metal Roofing
Solar Roofing
Emergency Roof Repair
… and more! Feel free to call us today for questions, schedule an appointment to learn more about North American Roofing, or schedule services for your roof. We look forward to speaking with you.