Regular roof maintenance is a critical aspect of owning a business that often goes overlooked, yet its significance cannot be understated. A well-maintained roof protects your business from the elements and ensures your safety and comfort. From preventing costly repairs to prolonging the lifespan of the roof, understanding the importance of regular roof maintenance is key to preserving the structural integrity and value of our most cherished investment.
Extend the Life of Your Roof
Annual maintenance is a simple yet critical step to ensuring that your roof lasts as long as possible. By getting regular check-ups and keeping up with necessary repairs, you'll maximize your roof's life and avoid the need for costly commercial roof replacements. Think of it like your car: without regular oil changes, your engine would quickly wear out. In the same way, your roof needs regular care to stay in tip-top shape. Don't wait until it's too late—give your roof the attention it deserves and enjoy the benefits of a long-lasting, well-maintained roof
Save Money
Regular roof maintenance may seem like just another cost for business owners to bear, but the truth is that it can actually save you money over the long term. Not only does proper maintenance extend the life of your roof, but it also helps address problems before they become too big to handle. The cost of small maintenance tasks or repairs is significantly lower than that of serious damage that might occur if problems are left unchecked.
Prevent Water Damage and Leaks
Roof leaks not only cause unsightly water damage, but they can also be a health hazard, inviting mold and mildew to grow in the walls. However, with proper roof maintenance, you can avoid these issues altogether. Don't let a leaky roof catch you off guard – take care of your business's top layer with regular inspections and maintenance. Remember, a well-maintained roof means a happy, healthy business.
What to Do for Roof Maintenance
Maintaining a healthy roof is crucial to ensuring the safety and longevity of your business. However, many owners neglect their roof's need for maintenance until it is too late and extensive damage has been incurred. To avoid this, conducting a visual inspection of your commercial roof from a professional roofer twice a year and after any major storms is important.
Trim Your Trees Over Your Roof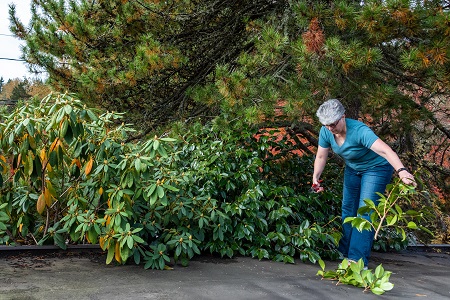 Did you know that the trees surrounding your business could potentially cause harm to your roof? It's true. Overhanging branches can be a real danger, especially during strong storms. Fortunately, this problem can be easily resolved by trimming back those branches that pose a risk to your roof. Don't let an overgrown tree be the cause of unnecessary damage to your business. Take action today and give your roofing system the care and attention it deserves.
Clean Out Your Gutters
Cleaning out your gutters is an essential task when it comes to roof maintenance. Over time, leaves, debris, and even small animals can accumulate in the gutters, obstructing water flow. This can lead to water pooling on the roof, seeping into the roof, and causing damage to the underlying structure. Regularly removing this buildup ensures that rainwater is effectively diverted away from your roof, reducing the risk of leaks, water damage, and even mold growth.
Remove Debris
Removing debris from your roof is a crucial aspect of roof maintenance. Over time, branches, leaves, twigs, and other debris can accumulate on the roof's surface, creating a breeding ground for moisture and causing potential damage. This debris can trap moisture, leading to the growth of moss, algae, and even rot. By regularly removing the debris, you not only prevent moisture-related issues but also protect the roof from potential damage and ensure proper water drainage. Removing debris from your roof not only enhances its appearance but also extends its lifespan, making it an essential task for maintaining a healthy and durable roof.
Hire Professional Roof Maintenance and Repairs Annually
At North American Roofing, our team of experts will not only provide expert repairs, but we'll also bring an extra layer of safety to the job. We'll conduct a thorough inspection of your roof and will help you keep your roof in tip-top shape. By entrusting your roof repairs to the pros, you'll save time and energy while ensuring that the job is done right.
What Is the StarCare™ Program?
As a property manager or building owner, you know that maintaining and extending the life of your roofs is critical to your investment. That's where StarCare™ comes in. Our program at North American Roofing is designed to offer comprehensive coverage and proactive maintenance solutions that no other company can match. With three distinct plans, you can choose the level of coverage that best suits your needs and maximize your investment with real, tangible results. Plus, our program provides a single point of contact for all your roofing needs, backed by the nation's most extensive network of certified roofing professionals. Our benefits include leak calls, set pricing on common service items, annual roof condition reports, priority leak response, volume discounts, and progressive capital planning. Don't settle for subpar roof maintenance – choose StarCare™ for a reliable and effective solution.
North American Roofing Performs Professional Maintenance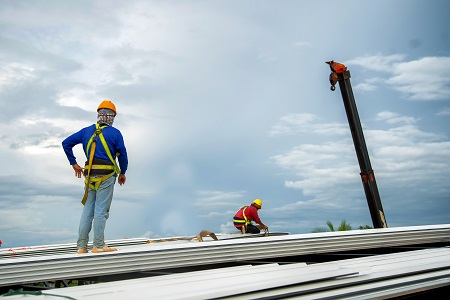 Your commercial roofing needs should not be left in the hands of just any contractor. As a seasoned roofing company with over four decades of experience, North American Roofing Services has developed a reputation for professional and dependable service. We specialize in repairing, replacing, and maintaining commercial roofing systems for various commercial buildings, such as warehouses, factories, and medical facilities. Our commercial roofing team of skilled professionals possess the necessary knowledge and expertise to handle even the largest commercial roofing projects. We take pride in the quality workmanship we provide, ensuring your roof remains in optimal condition for years to come. Our emergency service department is available, so you can rest assured that we'll be there for you in unexpected situations. At North American Roofing, we believe that every commercial property owner should have a rooted and trusted relationship with their commercial roofing contractor.
Make the call today and experience the difference with our excellent customer service. You can also reach us our service number: 1-866-567-2064.
Roof services we provide:
Commercial Roofing Services
Commercial Roofing Replacements and Installation
Commercial Roof Leak Repairs
Emergency Roof Repair
Flat Roofing
Complete Inspections
Visit our About Us page for more information about our commercial roofing company, or see our homepage.